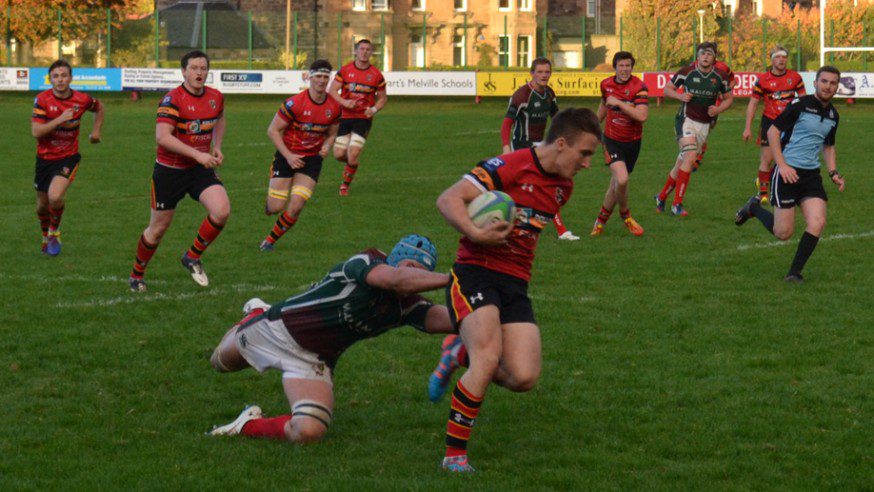 GHA RFC MATCH 317: STEWART'S MELVILLE RFC 27 – 19 GHA RFC
2015/2016: Scottish National League One
| | |
| --- | --- |
|  STEWART'S MELVILLE RFC  |  GHA RFC |
R. McCann
15
A. Gillman
A. Rennie
14
R. Jericevich
A. Greig
13
C. Binnie
S. Steel-Trotter
12
A. Henderson (c)
S. Murchie
11
B. Addison
M. Hanning
10
A. Goudie
F. Strachan
9
P. Jericevich
W. Aitken
1
S. Carson
R. Mitchell
2
E. Cavan
R. Morgan
3
M. Fox
T. Spowarth
4
A. Barnett
F. Morrison
5
C. McGeough
J. Berrisford
6
G. Neilson
B. Wilson
7
J. Dunn
A. Howie
8
G. MacDonald
M. MacDonald
16
L. Archer
A. Wallace
17
M. Robertson
R. Stewart
18
R. McKinstray
A. Manson
19
A. Auld
J. Savage
20
R. O'Keefe
McCann (2), Hanning, Penalty
Try
Addison, Binnie, P. Jericevich
Hanning (2)
Con
P. Jericevich (2)
 Hanning
Pen
DG
Referee
Mr F. Brown
Topsy is the little slave girl in Uncle Tom's Cabin (1852). When asked about her parents, Topsy always maintained that she had neither father nor mother. She explained her existence thus: "I 'spect I grow'd." Hence the phrase 'to grow like Topsy'. The Old English verb terve, now obsolete, comes from tearflian, to turn or roll over. Topsy-turvy, indeed. Of many examples, consider Saturday – having stormed into a lead of 22 answered points we were forced to defend for our lives with some good fortune, to eventually seal the deal 27-19.
Another unseasonable Saturday saw the sun burn off early mist. The sparse crowd was swollen by proud dads watching their offspring perform ball boy duties. Inverleith, is a great place to play when the home side is playing well but can quickly become draughty, austere and unwelcoming when things are all going a bit awry.
GHA had a backline packed with players that have played at a higher level so the game plan had to be to dominate up front and starve GeeHa of the ball. Mike Hanning delayed his pass beautifully to release young McCann through the GHA defence after only five minutes play. Angus Rennie, then, showing good wheels, exploded in midfield, was eventually tackled in 'Holy Cross corner' but the ball was recycled and McCann spotted a hole in the opposition backline to touchdown. The conversion from Hanning was successful – a twelve point lead after ten minutes.
GHA could not get into the game. They tried to establish field position, but suffered a string of unforced errors. They did, however, almost fashion a try on the far side from the grandstand, McCann forced the attacker out of play by tackling him around the chest when if Ross had gone low the try might have been scored. From the line-out a sweet take by Spowarth – the pick of the home eight – and clearance by Hanning to the half way was an outstanding exit from trouble.
More good hands in the next ten minutes from Stew Mel should have yielded more than a penalty. With half- time looming we were awarded a scrum ten yards from the GHA goal line. Messers Aitken, Mitchell and Morgan, the re-united three musketeers, had their eyes on the prize and a penalty try was awarded. The air of resignation behind the GHA goalposts was almost palpable.
Unfortunately, in the defence of his scrum Fox was hurt, Dr Robertson decided that he should not be moved and an ambulance was summoned.
The second half was therefore delayed by at least half an hour, a break that long meant GHA had a good chance to re-group, as the restart felt like a new match. GHA moved Peter Jericevich, a very, very good player to stand-off, moved Gillman to scrum-half and introduced Auld. The first ten minutes of the second half was fairly even but then GHA struck wide out through the impressive Addison with Jericevich converting. Then, with twenty minutes still to play Binnie dotted down in the same spot, again Jericevich added the extras.
About this time we lost Willie Aitken to the 'bin' and with Ruairdh Mitchell also replaced, the earlier scrum dominance evaporated – we could not get our hands on the ball. We even managed to lose a couple of scrums.
Then followed the games deciding moment, – Ross McCann forced a GHA winger out of play, in goal, in the act of scoring. From the re-start we explored the opposition's half, for a welcome change of scenery, and Mike Hanning managed to charge down a clearance kick. The ball bounced to Ruairdh Stewart and he produced a 'back door' off-load that eventually saw Mike cross the whitewash. Mike swerved his way near the posts to make the conversion easier for himself but in the event he pulled his kick left.
GHA resumed hostilities but the momentum had changed and Stewart's Melville tackled belligerently with Trotter marshalling the troops in mid-field. With the last play of the match Jericevich crossed for GHA. Murchie has looked the part since his introduction but we must look for ways of involving him closer to the action. McCann is a player – he knows when to go and when to pass and a lot of that is basic rugby instinct.
Topsy-Turvy then, can we go to Marr currently occupying second spot in the league and turn it round – no reason why not!
Source: Gavin Calder, Stewart's Melville RFC, Saturday 31st October 2015