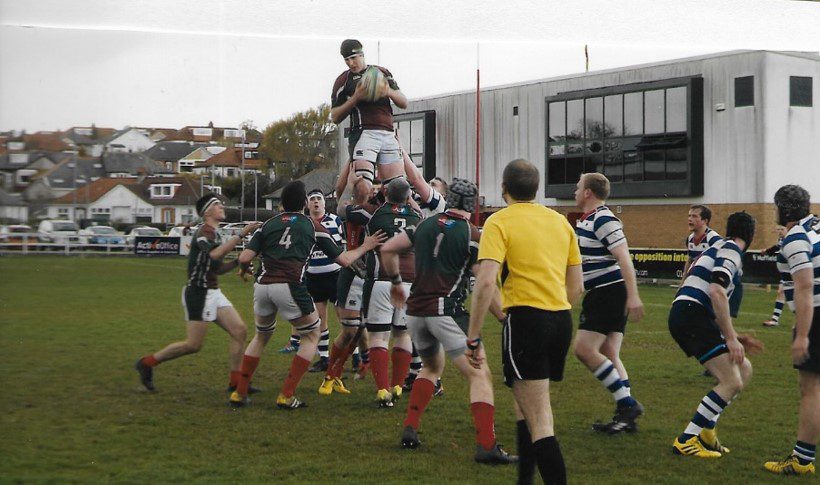 GHA 40 Howe of Fife 34
At the end of a season of ups and downs, more of the latter than the former, GHA finished on a high with a six-try win against Howe of Fife at Braidholm on Saturday. That half dozen included a genuine hat trick by Ben Addison – three in a row.
Addison's first was the bonus-point try, and his second, from his own interception and 60-metre run, sent GHA back into the lead at 33-27. Those two scores, les than five minutes apart, signified GHA's recovery from a third-quarter sag that allowed Howe to turn an 8-19 deficit into a seven-point lead. His third try was simply the icing on the cake with barely 10 minutes left.
Victory propelled his club up to seventh in BT National League Division 1's final table, a far happier place to be than the relegation-threatening situation GHA had been in little more than a month ago.
The result was also a farewell gift for Andy Henderson, who has decided to retire from playing rugby after career in which he played 53 internationals for Scotland. GHA have been blessed in having him on board, and in his finale he was again a key performer: leading by example, vigorous in defence, and always alert to creating for others, nowhere more obvious than his long, precise pass for Addison's first try.
Howe, who had taken a half-century of points off GHA at Cupar seven months ago, struck first this time with a penalty goal by Cameron Ellison after six minutes. But GHA signalled their intentions when Charlie Lonergan was denied close to the right corner. GHA turned over the subsequent lineout, and swift crossfield passing let Alan Auld in at the opposite corner. Peter Jericevich (hereafter referred to as PJ) converted from tight to the touchline.
Howe threatened the home goal-line both before and after that try. But it was the home team who struck next, just after the half-hour, when PJ chipped the ball through into the right corner for Lonergan to score. Again PJ was accurate with a goal kick from a touchline, the opposite one from the first.
However, with Adam Barnett in the sin-bin, Fraser Clark scored for Howe from a lineout drive in 37 minutes. So it was 14-8 to GHA at the interval, but the home team, still a man short, wasted no time in stretching the margin again only 51 seconds after the restart, when Lonergan's strong run up the right made a try for Murray Houston. It was the only try which PJ did not convert.
The third quarter belonged almost exclusively to Howe. Cameron Ellison chipped and chased for a try in the right corner after 45 minutes, and though Addison was close to a try in a GHA sortie Howe then struck twice in the space of two minutes. Clark completed a succession of hammer blow on the home line, the stand-off again converting for a 22-19 lead, and a break by Callum Willison opened the door for Ben Mitchell to score Howe's bonus-point try.
Between those two scores Howe gained another potential advantage when Michael Fox was sin-binned, but before the prop's return Lonergan and Addison reversed what had become a worrying trend: it was their work which set up the opportunity for Henderson to send Addison in after 58 minutes. PJ's conversion cut Howe's lead to one point.
Addison's second score soon followed, and Chris Binnie's strong touchline run drew the opposition to the right before GHA swung the ball across the field to release Erik Cavan almost to the line. Though the galloping hooker was denied his offload let the supporting Addison score. Another PJ conversion put GHA 13 points up.
Three minutes from the end, following strong Howe pressure, Conor Crawford found a way through for his team's fifth try. Cameron Ellison's third conversion claimed a second bonus for the visitors.
GHA achieved what they did despite a mounting penalty count. The eventual tally on that score was 16-8 against the hosts plus the two yellow cards. Ironically, however, the last penalty of the match was against Howe, and it earned Grant Henderson a yellow card.
GHA: Chris Binnie; Euan Greer, Charlie Lonergan, Andrew Henderson, Alan Auld; Ben Addison, Peter Jericevich; Lyall Archer, Erik Cavan, Scott Carson, Chris McGeough, Adam Barnett, Gordon Campbell, Walker Graham, Grant Neilson – Replacements: Jonathan Lyons, Michael Fox, Tom Ritchie, Murray Houston, Rangi Jericevich.
Scorers: T – Addison (3), Auld, Houston, Lonergan C – P. Jericevich (5)
Howe of Fife: Duncan McIntyre; Ben Mitchell, Fraser Ellison, Angus Guthrie, Chris Mann; Cameron Ellison, Stewart Lathangie; Steven Player, Conor Crawford, Grant Henderson, Graeme Steedman, James Aitchison, James Lawrie, Andy Steven, Fraser Clark – Replacements: Ben Peddie, Ryan Henderson, Greg Frearson, Robert Douglas, Callum Willison.
Scorers: T – Clark (2), Crawford, Ellison, Mitchell C – Ellison (3) P – Ellison
Referee: Duncan McClement.