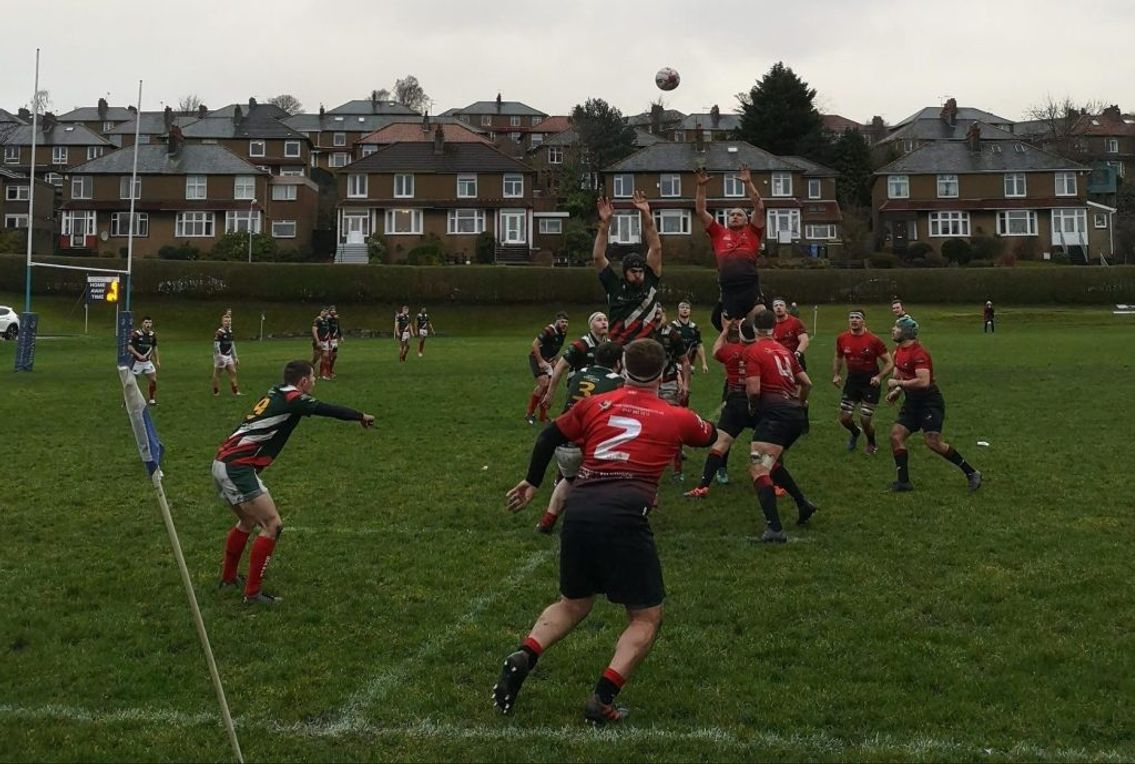 GHA RFC MATCH 421: GLASGOW HAWKS 19 – 20 GHA RFC
2019/2020: Scottish Premiership
| | |
| --- | --- |
| GLASGOW HAWKS  |  GHA RFC |
N. Moffat
15
J. Edgar
K. Gossman
14
J. Craig
M. Stewart
13
G. Mollison
C. Harrison
12
C. King
M. Godsman
11
A. Purewal
L. Brims
10
C. Armstrong
P. Boyer
9
G. Baird
L. Archer
1
E. Cavan
P. Cairncross
2
H. Clark
G. Strain
3
M. Fox
A. Kirkland
4
A. Barnett
S. Leckey
5
J. McCarthy (c)
J. Gammell
6
M. Marinković
F. Christie
7
M. Ryan
R. Sweeney
8
L. McCutcheon
P. Henderson
16
S. Carson
S. Halafihi
17
S. Fisher
J. McLean
18
M. Conroy
C. Holborn
19
S. Simpson
E. Oag
20
R. O'Keefe
Boyer, Gossman, Penalty
Try
Craig, Mollison, Purewal
Brims, Penalty
Con
Baird
Pen
Armstrong
DG
Referee
Mr F. Brown
SOME predatory finishing saw GHA scrape their way to victory and make it a derby double over Hawks, despite being under the cosh for large periods of another engrossing encounter.
The visitors opened the scoring when Grant Mollinson picked off a Hawks' pass around halfway and ran it home, just seconds after Andy Kirkland had pilfered possession at the breakdown for Hawks themselves. Hawks levelled matters when Paddy Boyer went over from close range, but the hosts then lost the usually effective Lyall Archer to injury after only 20 minutes of play.
The visitors regained the lead when George Baird took a quick tap penalty just inside his own half and kicked ahead for Jordan Craig to chase, with the winger beating Boyer for pace to nudge the ball into the in-goal area before dotting down.
Boyer and Craig were again involved in the next score, with the roles reversed. Boyer's dink over the top with penalty advantage was kicked ahead by Callum Harrison, and Craig spilled it forward as he scampered back to retrieve the situation.
Hawks, who dominated in the scrum throughout the match, got to within five metre, and although Boyer's pass from the base was interrupted, Kerr Gossman retrieved possession with his back to the GHA try-line, spun round and fended off three players with a brilliant finish towards the left corner.
The sides had gone into the break level, then five minutes into the second half Liam Brims had the opportunity to put the home side in front following Mike Ryan's failure to roll away after making a tackle, but it drifted just left of the post.
Andy Kirkland was then sent to the sin-bin for a high tackle on Ruairi O'Keefe, with the GHA replacement having some choice words for his assailant, and the left-hand corner which Gossman had scored in earlier, was treated to another spectacular finish.
The attack looked like it had petered out, only for Aaron Purewal to pick up the ball, gas past hooker Paul Cairncross and dive in for a fine score despite the best attempts of Nathan Moffatt.
Archer's replacement, Paul Henderson, had been responsible for the penalty from which Craig scored, and when he was again penalised, stand-off Ciaran Armstrong extended the GHA lead to over a converted score.
Hawks' reply was almost instantaneous. Erland Oag was tackled high by O'Keefe as he raced towards the line, for which O'Keefe was yellow-carded, and Hawks opted for the scrum five metres out. They drove towards the line, and referee Finlay Brown awarded the penalty try as GHA's pack crumbled.
Hawks continued to dominate possession and territory as the clock wound down, but having worked their way into the GHA 22 and with time now up, possession was lost, allowing openside Mike Ryan to gleefully thump the ball dead to spark jubilant celebrations amongst the side from Giffnock.
Having kept a grip on Glasgow bragging rights, GHA's Trevor Carmichael mused: "It was a must win game for us, we had to win this. We gave away a silly penalty with five minutes left to go, but the boys then showed amazing discipline to not give away another one which Hawks probably would have kicked.
"It was always going to be a close game in this derby. They're a good side, we're a good side, we sort of nullify each other. It was going to be a battle of attrition a wee bit, but happy with the victory. I'm happy. I'm over the moon for the boys.
"I wouldn't say we're safe, we're just focusing on our next game against Jed away, and we'll see how we go from there."
Having seen his side once again come so close to snatching victory, Hawks' head coach Andy Hill said: "It's a sore one. I think again we played the better rugby but they've scored a few breakaway tries. They've got an interception, a quick tap, and then the one down in the corner where there's been a break-up in play and then they've scampered down the side, which I think was actually in touch.
"It's fine margins. We need to look at ourselves, we didn't really manage the game as well as we should have, we've missed touch a couple of times, put three or four balls out on the full. I think we looked the lot more threatening, but we didn't manage that part of the game as well as we should have, and when you don't do that it costs you.
"We've got the boys there to go and do it, there's not many guys I'd swap for other players in the league, but it comes down to what happens on the day, and we're just falling foul of those fine margins."
Source: Iain Hay, The Offside Line, Saturday 25th January 2020