A Short History
Welcome to a short history of GHA's Famous Gazelles, Scotland's (or maybe the World's?) best known veteran's rugby team.
In the beginning, around 1985, there were a bunch of 'older' guys in south Glasgow who played rugby for the love of it. It was suggested that the team needed an appropriate name. Somebody (might have been a prop?) said, "how about the Guzzles?" A reference to the large quantities of alcohol consumed back then. (Not that much has changed in the present day). Over time the name has been refined to the "Gazelles" reflecting the more athletic abilities and all round pace of the players.
At that time there was an active oldie scene in the west of Scotland and further afield. Teams played each other on a regular basis and much fun and banter was had by all. There were the Stirling County Wolfhounds, Corstorphine Codgers, Alloa Aardvarks, Hillhead/Jordanhill Panthers to name but a few.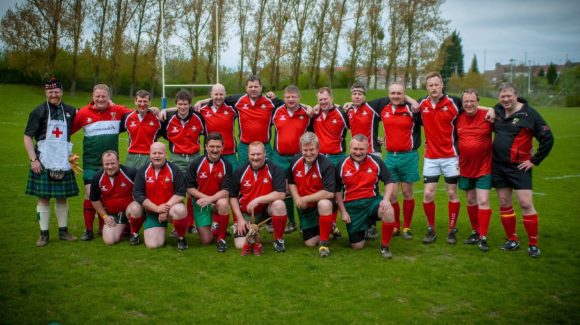 Most of these teams have now sadly disappeared but the Famous Gazelles live on with our 30th anniversary fast approaching in 2015. These days the team play in a  regional league in the west of Scotland but have competed in a number of different competitions over the years – with varying levels of success. The pinnacle of the Gazelle's glory (to date) was the famous 100% year in 1999-2000 – played 25, won 25.
But the thing the Gazelles really relish is proper oldies rugby. Played in the right spirit, with enjoyment of the game – and the not the result – the most important objective. It goes without saying that the after match activities are 'old fashioned' and alcohol fuelled. These days it seems the best way to experience this type of rugby is to play touring teams of fellow oldies or veterans.
Touring
If you are a veteran's team looking for a tour game in Scotland – get in touch. We'd be happy to accommodate you. The Famous Gazelles play at Braidholm, the home of Glasgow Hutchesons' Aloysians Rugby Football Club (GHA Rugby Club).
Three excellent pitches and a well appointed club house.We are a most hospitable bunch having hosted touring sides from:- France – Old Briscards & IBM Bordeaux
Holland – Pink Panthers & Breda
Ireland – Clondalkin & Londonderry YMCA
England – Carnforth, Keswick, Halifax Vandals, Old Isleworthians & HMS Nottingham
France – Esquiche Coudes, Les Dinos du R.O.Y.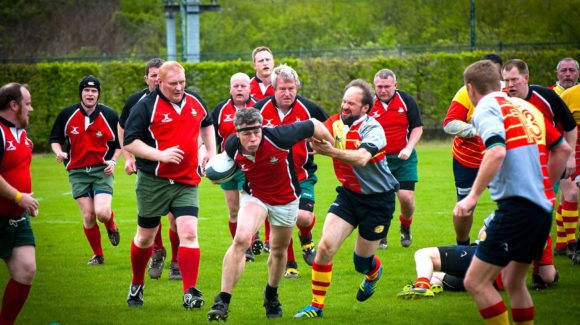 Naturally we also love touring ourselves and have visited:-
Ireland – Clondalkin, Cork (Douglas RFC) & Letterkenny
Jersey
Isle of Man Vagabonds
France – Old Briscards
England – Burnage, Davenport & Duckinfield
Holland – Amsterdam
Possibly others we have forgotten, if so we apologise.
A strange creature from across the seas also decided to adopt us and Guzzle the Gazelle, shown here resplendent in his touring attire, now looks after us on playing and social occasions. We try and look after him but his kidnap by a lesbian ladies rugby team and subsequent world tour left him – and us – badly traumatised.