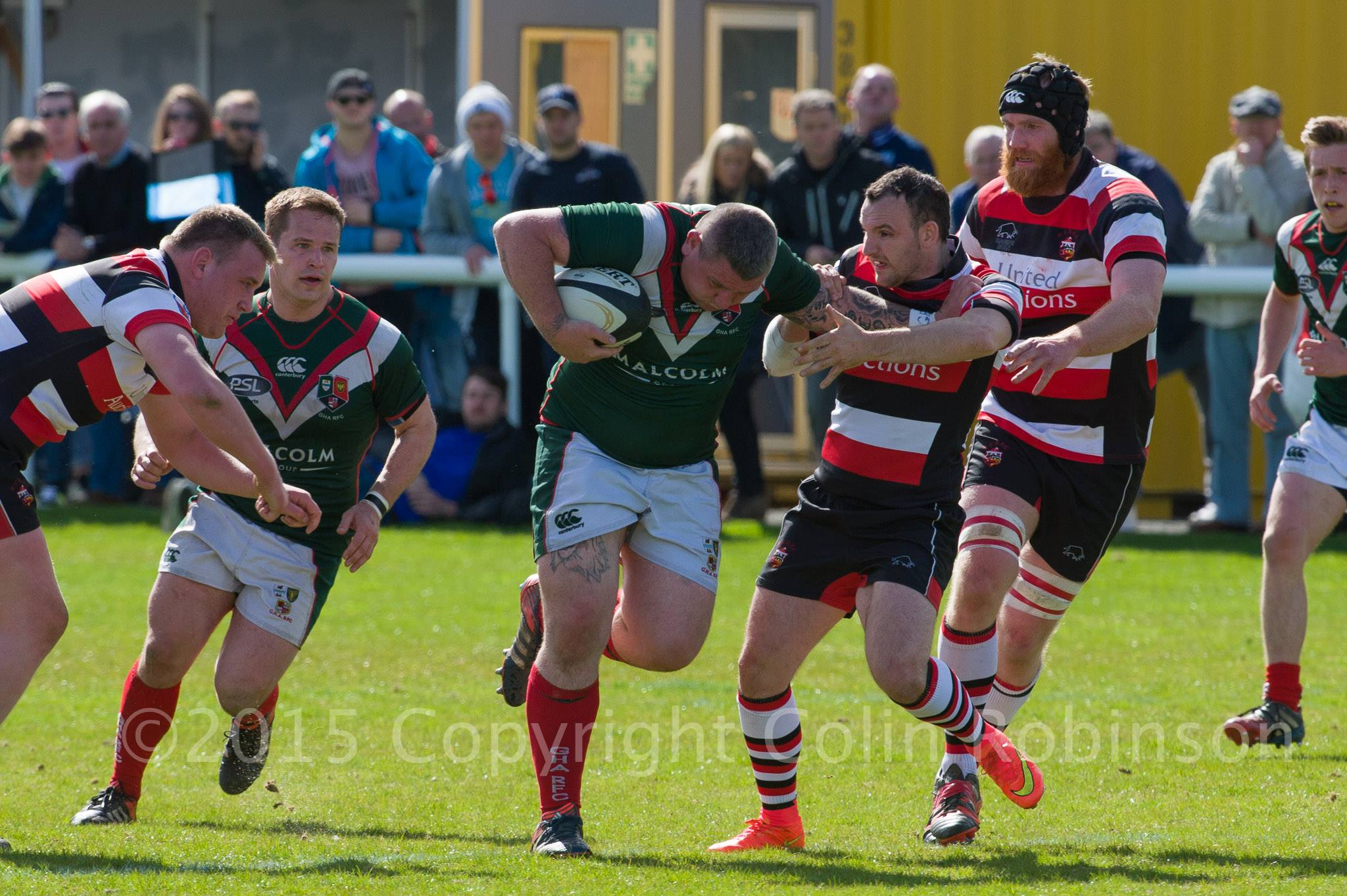 GHA RFC MATCH 308: STIRLING COUNTY RFC 39 – 22 GHA RFC 
2014/2015: Scottish Premiership / National League Play-off
| | |
| --- | --- |
| STIRLING COUNTY RFC  |  GHA RFC |
J. Hope

15

C. Binnie

A. Russell

14

R. Jericevich

D. Gilmour

13

N. Cassie

F. Lyle

12

A. Henderson (c)

J. Brogan

11

A. Auld

A. Black

10

A. Goudie

A. Price

9

P. Jericevich

C. Hutton

1

S. Gallacher

C. Fenton

2

J. Malcolm

G. Mountford

3

M. Fox

R. Leishman

4

A. Barnett

E. Dewar

5

C. McGeough

(c) S. Robertson

6

D. Malcolm

S. McDonald

7

R. Angus

S. Neil

8

A. Boag

D. Westwood

16

S. Carson

A. Wood

17

P. Harkins

B. Dineen

18

G. MacDonald

E. Howgate

19

G. Neilson

M. Smith

20

M. Houston

L. Wynne

21

M. MacFarlane

J. Urquhart

22

J. Edgar

Brogan, Leishman, Lyle, Smith, Penalty

Try

Binnie (2), Angus, P. Jericevich

Hope (4)

Con

P. Jericevich

Hope (2)

Pen

DG

Referee

Mr G. Wells
On a beautiful spring afternoon at the aptly named Sunnyside, home of Falkirk RFC, GHA were courageous in their attempt to wrestle a spot in next season's BT Premiership away from Stirling County. It was a day made for running rugby and both sides set out to provide it.
The first quarter was played out at a blistering intensity with GHA dynamic in defence and putting their bigger opponents under pressure. It was from a turnover on 10 minutes that GHA counter attacked out wide and a neat interchange on the right hand touchline saw GHA full back Chris Binnie race clear for the opening score. The try was unconverted.
GHA continued to press their opponents in defence and twice fell foul of the referees whistle to give Stirling two penalty chances which they converted for the narrowest of leads. As the first half entered the final 10 minutes, Stirling exploited an overlap from deep in their own half and despite some good scramble defence from GHA, former GHA winger John Brogan, now in Stirling colours, was on hand to finish off. The score was converted to give Stirling a 13-5 lead. GHA hit back soon after when, after some good play from GHA Number 8 Andrew Boag and a sustained forwards onslaught inside the Stirling 22, the ball was shipped wide for Binnie to go over for his second. The conversion came back off the uprights to leave GHA trailing 13-10. At this stage confidence was building that, getting to half time with a three point deficit would be a good position for the second half.
Unfortunately, in the last move of the first half, following a penalty to County for killing ball, they produced a rolling maul from the subsequent line out.  Andy Boag was adjudged to have pulled down the maul, for which he was yellow carded and a penalty try was awarded to County which, after conversion, gave a half time score of 20-10.
Half-Time: Stirling County 20 – 10 GHA
Not what had been anticipated and it got worse in the first minute of the second half when Ruaridh Leishman broke from yet another maul to go over near the posts.  Another conversion gave County a 27-10 lead, leaving GHA with a mountain to climb. With Chris McGeough having to be replaced at half time, injuries in the first ten minutes to the Malcolm brothers and Scott Carson meant that uncontested scrums had to be introduced for the rest of the game.
GHA were not for throwing in the towel however and from the back of one of these scrums, Peter Jericevich darted through the County defence to reduce the deficit to 27-15. Again the conversion was missed and the missed kicks were proving vital in hampering GHA's challenge.
Stirling responded with two tries in quick succession with Stirling's kicking out of hand also proving to be more astute than that of GHA's on the day, with their territorial advantage proving crucial. The first score was a typical forward effort as Matt Smith crashed over after the Stirling pack bludgeoned the GHA defence, the second came from a break by Glasgow Warrior centre Fraser Lyle who was a standout performer for Stirling all afternoon.
Depsite now facing an almost impossible task, GHA dominated the closing 10 minutes. Flanker Ross Angus scored out wide with a few minutes to go, the conversion on this occasion did go over, and GHA were unlucky not to add another on the final whistle. Alas, it was too little too late.
Full-Time: Stirling County 39 – 22 GHA
So they stay in the Premiership and GHA return next season to the realistic ambition of securing automatic promotion to the Premiership. Despite the disappointment for GHA, this was a great occasion with several hundred GHA supporters making the trip and lining the touchline.
With a try count of 5-4 in County's favour, the match was probably closer than the scoreline suggests.  The GHA pack were up against a bigger, more streetwise pack, but in spite of this showed up well in the loose and at lineouts and had a major success in defending a rolling maul close to the GHA line by crabbing it from close to the touchline almost to the goal posts before a penalty against County led to the relief of the GHA line.
The stronger team certainly won, but they were matched in many phases of the match by a spirited and skilful GHA side which left their supporters disappointed but not despondent and buoyed with great hopes for the season to come.