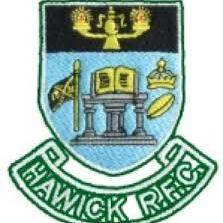 GHA RFC Match 33: GHA RFC 10 – 13 HAWICK RFC
2003/2004: Scottish Premiership One
| | |
| --- | --- |
| GHA RFC  |  HAWICK RFC |
A. Bulloch
15
G. Law
A. Scott
14
N. Walker
R. West
13
R. Armstrong
I. Leighton
12
D. Hames
S. O'Donnell
11
C. Murray
C. Pothan
10
D. McCracken
S. Cowan
9
D. Irving
C. Birchall
1
G. Dunlea
G. Walsh
2
G. Scott
C. Hastie
3
D. O'Connell
A. Williamson
4
F. Pringle
I. Smith
5
I. Elliot
J. Eddie
6
W. Davis
J. Fitzpatrick
7
R. Deans
L. Hazelton
8
B. Keown
R. Watson
16
W. Blacklock
17
R. MacLeod
18
 K. Hedley
19
 J. McDevitt
Fitzpatrick (2)
Try
Walker
Con
Law
Pen
Law (2)
DG
Referee
Mr. T. Chrisp (Watsonians FC)
If tearing your hair out was a competitive sport, GHA would have sewn up the league by now. Their seventh bonus-point defeat of the season came courtesy of flat-footed attacking, debatable refereeing and a gamble by coach David Wilson. With his team trailing by three points to the Borderers, Wilson took off his only recognised place-kicker, Steve O'Donnell, in favour of the more robust Rory Watson on the wing in an attempt to shore up the tackling. But the move backfired when the home side were awarded three penalties in Hawick territory in the dying minutes of the game.
After Andy Scott scuffed the first one wide, the next two were punted into touch, but both times Hawick took the line-out against the head and hooked the ball clear. Hawick coach Jock Rae admitted his side had ridden their luck: "We stuck to our defensive task very well, but our attacking play left a lot to be desired. This GHA side have shown a lot of commitment and it's surprising they haven't won all season." Wilson also pointed to a key moment in the second half when No.8 John Fitzpatrick appeared to have crossed the line for his hat-trick, only for the try to be ruled out by the referee. "The touch judge wasn't up with play and he called a double movement. That was crucial for us in terms of getting that elusive third try," Wilson said. "We didn't lose because of the lack of a kicker, we lost because we didn't take our chances in the first half and I question the decision by the referee and touch judge." He added: "There are players here who don't realise that if you don't take your chances at this level, you don't win."
GHA opened the scoring with barely a minute on the clock. Hawick's kick-off failed to go ten yards, the home side won a free-kick from the scrum and Fitzpatrick began a charge to the line which ended with the No8 himself going over from close range. Hawick came back with a penalty before winger Nikki Walker, fresh off the plane from Australia, went over in the corner to give the visitors a half-time lead. Gary Law scored a second penalty as GHA's Ross West was sin-binned for killing the ball on the ground. But despite being a man down, the home side closed the gap to three points when Bulloch's flicked pass put Fitzpatrick clear for his second. But GHA were unable to make the breakthrough after that and Hawick hung on.
Source: The Scotsman, Monday 17th November 2003