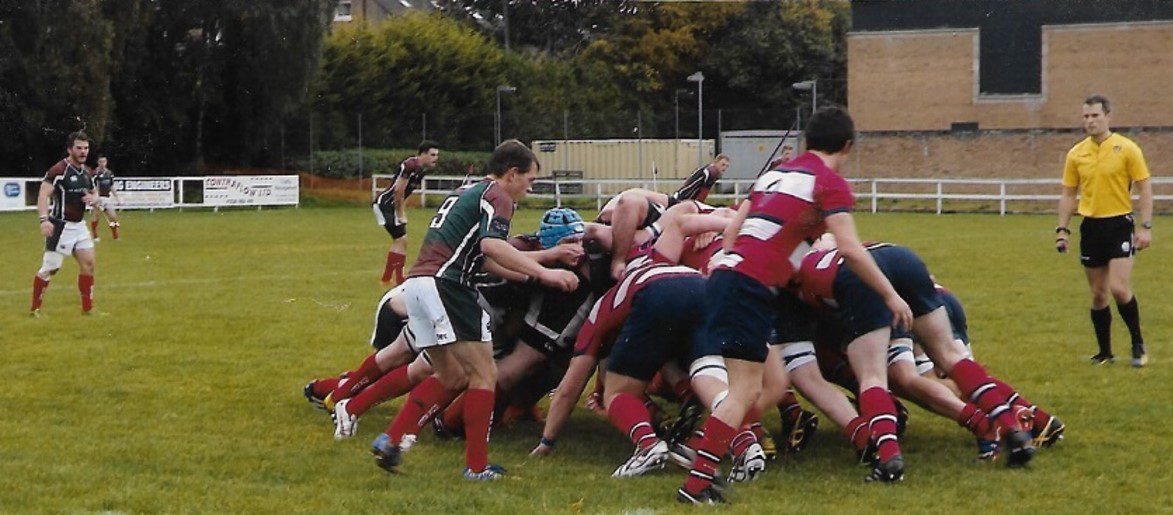 GHA 38 Peebles 34

Four tries by Alan Auld on the left wing proved to be the substantial basis of GHA's victory against Peebles at Braidholm on Saturday. It was the club's third bonus-point win in five BT National League Division 1 matches this season.
Auld's third try was followed by one by Rangi Jericevich on the other flank, with GHA grabbing the bonus after little more than half an hour, and when the busy Erik Cavan went over for a fifth GHA were 33-8 up going into the interval. Auld's fourth took the score to 38-15 in 59 minutes, but GHA still had to suffer an agonising final quarter as the visitors notched three tries in coming back to two bonus points.
Peebles hinted at making it a challenging contest when Grant MacDonald had to make a try-saving tackle in the home right corner, and the visitors duly posted the opening when Rhys Wilson ploughed over from close range. But GHA went ahead after 15 minutes when Murray Houston converted Auld's first try after lineout possession provided the means for Andy Henderson and Andrew Grant-Suttie to send the left wing clear.
Peebles had the chance to regain the lead two minutes later, but Greg Raeburn was wide with a penalty, as he had been after the prop's try. Back came GHA to pound the visitors' goal-line before Peter Jericevich sent Auld in again. Houston missed the conversion from wide out, but immediately, with Grant-Suttie breaking out from the kick-off, the scrum half provided the link for Auld's third. This time Houston added the goal points.
That hat trick was as good a way as any for the wing to respond to his original omission from the team. He had been recalled only because of an injury call-off after the team had been selected.
Raeburn kicked a penalty goal on the half-hour for Peebles. But GHA still had time for two more try before half-time. Andrew Gillman's electric run up the right touchline created Rangi Jericevich's try, and Cavan pounced for the fifth on the blind-side of a ruck close to the left touchline. Houston converted both.
Mitch McGahan interrupted the GHA procession with the visitors' second try 16 minutes into the second half, Raeburn converting. But GHA soon countered when a turn-over and swift crossfield passing put Auld over yet again.
Whatever happened to GHA thereafter, the final quarter undoubtedly belonged to Peebles. Ryan McConnell went over from close-range, and after Grant-Suttie had been yellow-carded for what was deemed to be an illegal tackle Peebles added two more by Wilson (the loose head's second) and Callum Anderson. Raeburn converted both, and GHA had to hang on desperately for the final 10 minutes.
GHA: Andrew Gillman; Rangi Jericevich, Andrew Henderson, Ze Abrantes, Alan Auld; Peter Jericevich, Murray Houston; Lyall Archer, Erik Cavan, Michael Robertson, Sean Corrigall, Adam Barnett, Robert McKinstry, Andrew Grant-Suttie, Grant MacDonald. – Replacements: Seitaro Usuda, Scott Carson, Jack Dunn, Andrew Goudie, James Edgar.
Scorers: T – Auld (4), Cavan, R. Jericevich C – Houston (4)
Peebles: Greg Raeburn; Conor Blyth, Callum Anderson, Mitch McGahan, Scott Stoddart, Donald Anderson, Scott McCormick; Rhys Wilson, Ryan McConnell, James Coburn, Ross Brown, Davie Paton, Gavin Pringle, Murdo Anderson, Kieran Brown – Replacements: Willie Napier, Davie Anderson, James Dow, Aaron Wilson, Murray Brown
Scorers: T – Wilson (2), C. Anderson, McConnell, McGahan C – Raeburn (3) P – Raeburn
Referee: G Pounder.