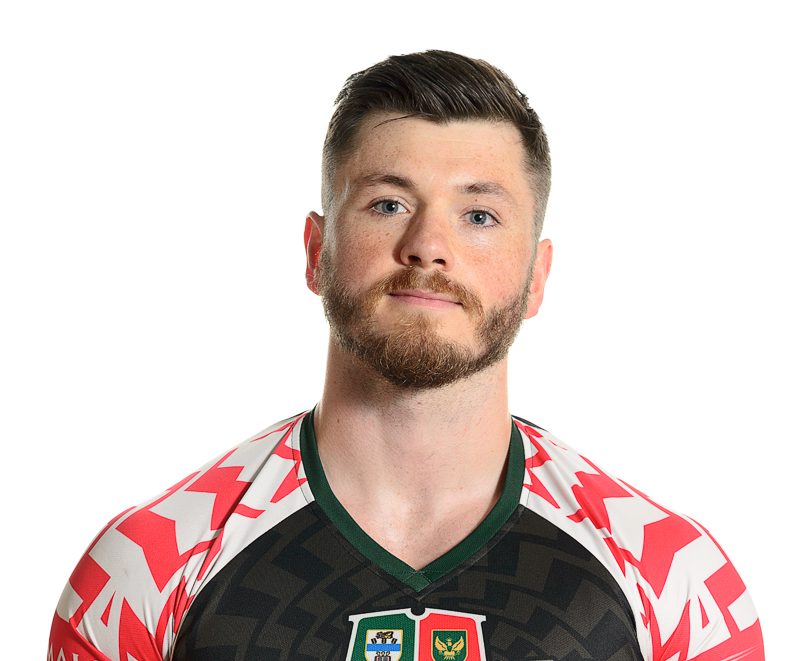 The season is upon us and a new look GHA 1st XV includes 3 school leavers with Adam Scott starting on the right wing and Luke McCutcheon and Jordan Craig starting on the bench. Jonathon Hamilton-Potter (pictured) who returned to the club over the summer starts at inside centre where he will form a dynamic partnership with Charlie Lonergan. Another former player Erik Cavan returns to the club and will start on the bench as will Ruairi O'Keefe who is back in the 1st XV after a number of years absence. Meanwhile a strong and experienced 2nd XV play Stirling County 2XV (now Stirling Accies) on the JWF 3G Pitch with a further 3 school leavers in Andrew Lamb, Matthew Conroy and Andrew Hughes all looking to make their mark in senior rugby. The Lions meanwhile are on the road to Kilmarnock with a strong squad that includes 1st XV caps Nigel Kelly, Jamie Auld, Scott Mathieson, Aidan Brennan and Joshua Low.
Meanwhile our U18s are looking to continue their strong start to the season with a top of the table clash at Auldhouse against Cumnock. All in all a full compliment of 86 players will pull on the Green, white and red this Saturday across the 4 squads.
GHA v Currie Chieftains, Home. KO 3pm.
1. Tony Brogan
2. Luis Barron
3. Sean Fisher
4. Adam Barnett
5. Jamie McCarthy (c)
6. Scott Plumridge
7. Dario Ewing
8. Milan Marinković
9. Andrew Gillman
10. Cameron King
11. Aaron Purewal
12. Jonathon Hamilton-Potter
13. Charlie Lonergan
14. Adam Scott
15. Grant Mollison
Reserves
16 Erik Cavan
17 Scott Carson
18 Luke McCutcheon
19 Ruairi O'Keefe
20 Jordan Craig
GHA 2XV v Stirling Accies, Home. KO 3pm.
15. James Edgar
14. Euan Greer
13. Chris Binnie
12. Jack Reilly
11. Jackson Baillie
10. Andrew Lamb
9. Scott Simpson
1. Kirill Chernick
2. Hamish Clark
3. Daniel Sutton
4. Alistair Harkness
5. Paul Harkins
6. Matthew Conroy
7. Mike Ryan
8. Stuart Mulholland
Reserves
16. Dominic Kellock
17. Simon Mukulumani
18. Fraser Faulds
19. Luke Olivier
20. Andrew Hughes
21. Glen Eric Scott
22. Conor Drummond
GHA Lions v Kilmarnock 2XV, Away. KO 3pm
Squad from:
Declan O'Shea
Roy Jackson
Scott Mathieson
Steven Spence
Tristan MacKenzie
Nigel Kelly
Aidan Brennan
Jack Anderson
John Crilly
Declan Papadakis
Jamie MacKinnon
Michael Cruikshank
Larry Marshall
Matt Mcaleer
Joshua Low
David Moat
Harris Douglas
Euan Adams
Innes Arnott
James Docherty
Ollie Vollam
Jamie Auld
GHA U18 v Cumnock, Home (Auldhouse). KO 2pm.
Squad for this week:-
Finlay Overend
Ruari Campbell
Logan Mclardie
Ethan Darroch
Harry Mckenzie
Chris Brotherton
Scott Carmichael
Daniel Lizzeri (c)
Sam Faulds
Daniel Coll
David Dunn
James Dempster
Gabe Fraser
Gregor Drummond
Leo Foulds
Jacob Peacock
Glen Little
Dylan Sabushimike
Luca Rolando Bardelli
Rory Blackwood
George Fisher
Jools Brown