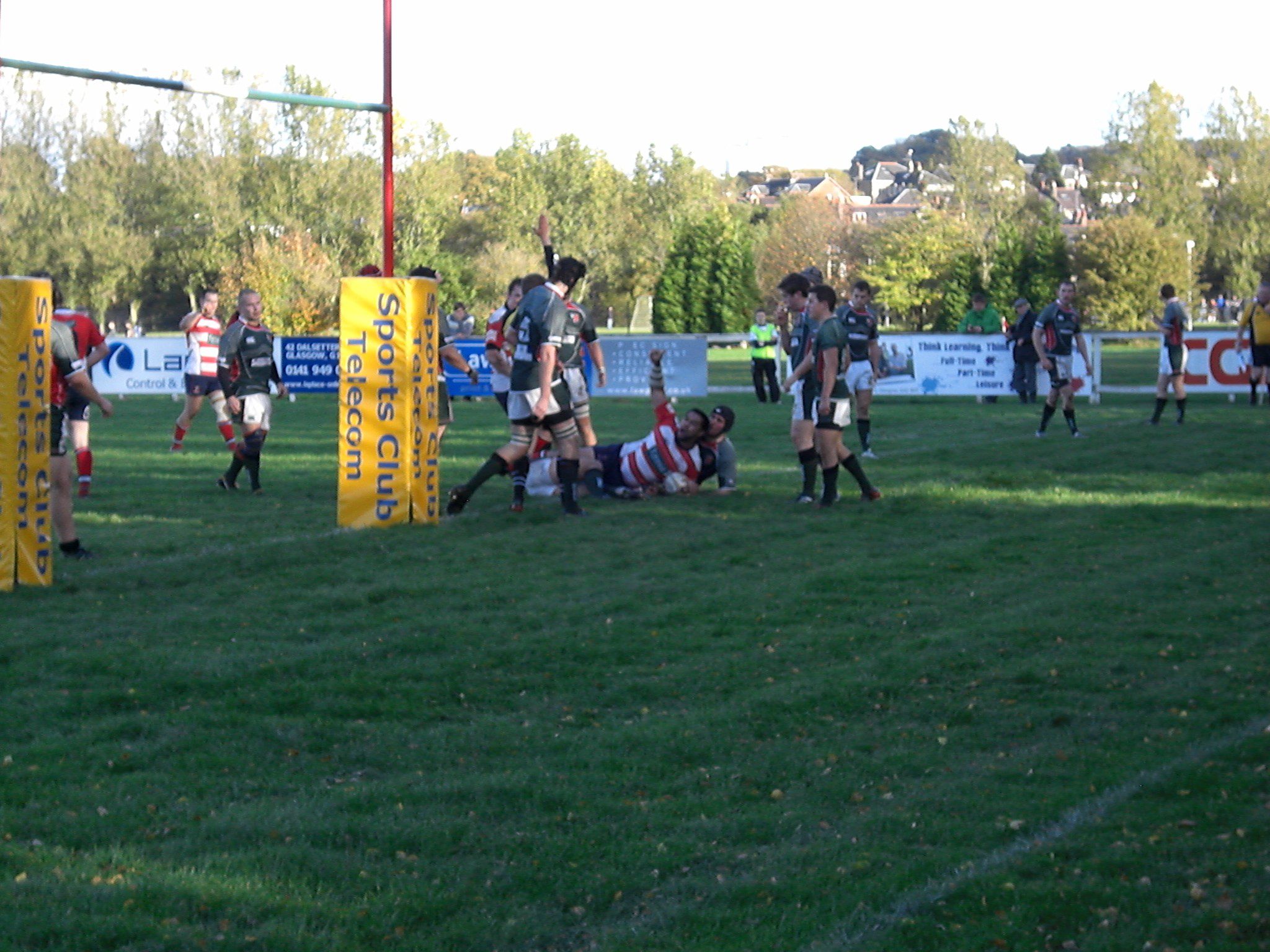 GHA RFC MATCH 202: GHA RFC 39 – 21 PEEBLES RFC 
2010/2011: Scottish Premiership Two
| | |
| --- | --- |
| GHA RFC  |  PEEBLES RFC |
R. McClymont
15
D. Anderson
R. Jericevich
14
N. Hogarth
(c) N. Cassie
13
D. Clancy
A. Rushforth
12
D. McLean
A. Gillman
11
M. Cruikshank
D. Dunn
10
N. Warnock
M. Houston
9
D. Moore (c)
 G. Warnock
1
W. Aitken
D. Malcolm
2
R. McConnell
M. Kidd
3
A. Clark
R. Jenkins
4
D. Harvey
S. Shearer
5
A. Brown
I. Nelson
6
S. Temita
J. Pinder
7
E. Jackson
D. Kellock
8
A. Warnock
S. Spowart
16
M. Carryer
P. Harkins
17
K. Clyde
J. Auld
18
D. Brown
 R. O'Keefe
19
C. Blyth
Cassie (4), Gillman, Shearer
Try
Clancy (2), Temita
Houston (3)
Con
N. Warnock (3)
Houston
Pen
DG
Referee
Mr T. Davies (RFU)
At last! GHA found the ways and the means on Saturday to play the expansive game that they had been seeking all season. The result was more than just their first Braidholm win of the season, though that in itself would have an occasion for celebration. A bonus point was tied up in little more than half an hour, and the home team went on to record half a dozen tries, four them by Niall Cassie, the captain leading by example.
It was only GHA's second win this season. The first was largely the result of exploitation of Biggar's mistakes whereas this victory was based on a fine performance in teamwork. The scrummage was mainly secure, and the lineout game was the best it has been this season, though even more important was the quick possession won at the breakdown. Jamie Pinder was outstanding there, though his efforts would have been worthless but for the work of others such as Donald Malcolm and Iain Nelson. All that permitted the backs pace to flourish, with Ross McClymont in the mood to mesmerise the opposition with his jinking and jogging, a foil for the more direct Cassie and Andrew Rushforth. Andrew Gillman and Simon Shearer scored GHA's other tries. Murray Houston added three conversions and a penalty goal.
McClymont set the tone early on with a mazy break up the right touchline, and Cassie was on hand to finish off with a try in seven minutes. Houston kicked the conversion from well out, and three minutes later he added his penalty goal.
Almost from the restart Cassie scored again, this one all his own work after he had not just blocked an opposition kick but also caught the ball at almost point-blank range, running from inside his own half to score. Houston missed that conversion attempt, but GHA, leading 15-0 after 11 minutes, were ahead of the clock in scoring rate.
It was here than Peebles first had a look in, when Dale Clancy barged off several tackles to score. Neil Warnock converted, but it was only a brief interruption to the GHA flow as tries by Gillman and Cassie secured the bonus point in 31 minutes.
Gillman scooped up a loose Peebles pass to sprint diagonally in from 35 metres to score at the posts. Houston converted, and when the elusive McClymont escaped from 20 metres inside his own half Cassie was on hand again to finish off.
That was 27-7 to GHA, but Peebles worried the home support with a try on each side of the interval, both converted by Neil Warnock. The visitors exploited a chargedown for Clancy to score his second try, and only two minutes into the second half Peebles were only six points adrift after the pack had driven over from a lineout for Shanon Temita to score.
Four minutes later Cassie ran in from halfway for his fourth try, Houston converting to put the home team more than a maximum score ahead, but GHA had to show other qualities to thwart a subsequent comeback by Peebles. The visitors threatened the home line with no fewer than three successive five-metre scrums. Two of those triggered a Border battering-ram. But GHA held out, and when the third of those scrums turned more than 90 degrees the siege was lifted.
GHA still had to survive 10 minutes of being short-handed, with Geoff Warnock in the sin-bin, but once full strength was restored the home team celebrated with a bout of exhilarating, lively rugby that produced the sixth try. McClymont, Gillman, Pinder, and Auld among others were involved before Shearer ran over on the right, and GHA were in the mood for more, though they were denied when Dominic Dunn and then Pinder were held up over the line.
Source: Bill McMurtrie