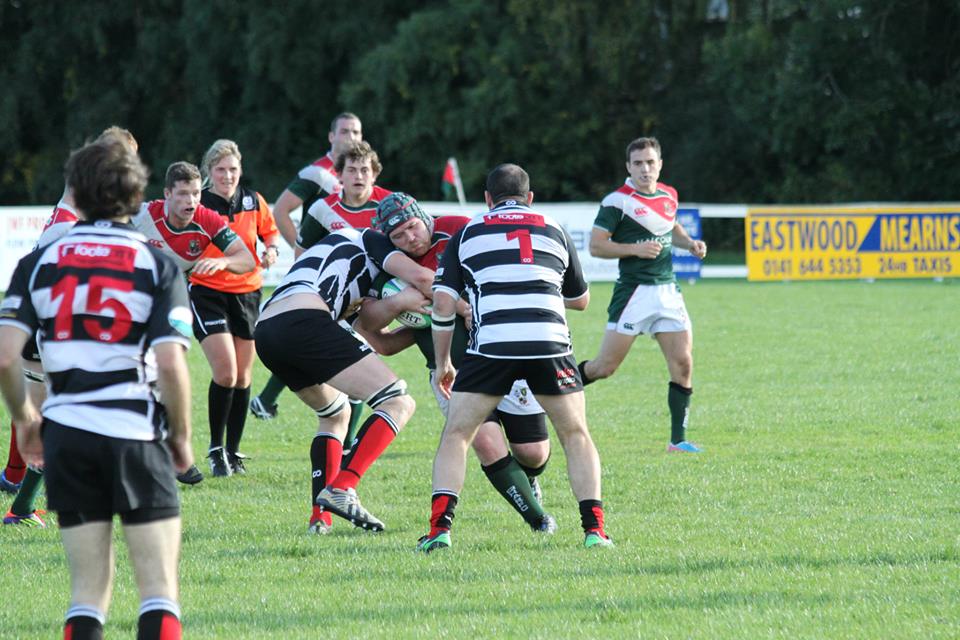 GHA RFC MATCH 267: GHA RFC 57 – 16 KELSO RFC 
2013/2014: Scottish National League
| | |
| --- | --- |
| GHA RFC  |  KELSO RFC |
S. Lang
15
M. Hastie
R. Jericevich
14
G. Millar
H. O'Hare
13
R. Minto
(c) A. Henderson
12
F. Robson
G. Adams
11
C. Venus
N. Cassie
10
B. Cooper
J. Plumridge
9
A. Tait
J. White
1
S. Lowrie
G. King
2
R. Henderson
S. Fisher
3
K. Cooney
J. Auld
4
D. Seed
R. Glen
5
A. Wallace
R. Jenkins
6
I. Wallace
A. Auld
7
C. Riddell
G. MacDonald
8
M. Robertson
S. Carson
16
F. Howie
M. Fox
17
D. Gobby
P. Harkins
18
A. Common
M. Houston
19
M. Wilson
J. Couper
20
D. Buckley
Cassie (3), Glen (2), A. Auld, Henderson, Jericevich, Lang
Try
Cooney
Lang (6)
Con
Cooper
Pen
Cooper (3)
DG
Referee
Ms M. Hay (West RRS)
Happy times are here again at Braidholm! GHA notched nine tries, three by Niall Cassie, in a hefty victory against Kelso in Saturday's RBS National League contest.
Cassie, out of rugby for much of the past two years, looks like making up lost time with his threesome adding to the try that marked his return as a replacement against Dundee the previous week. All the more important for GHA was that against Kelso they rediscovered the strengths that took them through to the Championship trophy success last season and promotion. First-time tackles were rarely missed, and the flowing pace thrived.
Scott Lang, Rangi Jericevich, and Andy Henderson were the other backs to score tries, and Lang added six conversions. The forwards were represented on the scoresheet by Robbie Glen (with two tries) and Alan Auld. It helped GHA's cause that for the last half-hour they were playing against 14 men after Dom Buckley had been red-carded for stamping. By then, though, GHA had the four-try bonus in the bag. Nothing in the first half suggested that GHA would run up more than half a century of points. Kelso actually led at the interval, albeit by just 13-12, and the home team had the better of the try-count by then.
Kelso were 6-0 up after 15 minutes, with two penalty goals by Ben Cooper, and the visitors could have been disappointed that the margin was not greater. The second of those scores followed seven minutes of heavy Border pressure. GHA, though, had their own phases of heavy pressure, with the piano-shifters and the piano players joining in percussion on the Kelso goal-line. Eventually, after half an hour, they struck the right note: from a five-metre scrum Lang stepped twice inside for a try by the posts. He also converted. Kelso responded quickly with a try by Kieran Cooney as the forwarded drove over from a close-range lineout. Cooper converted, but just before the interval Henderson slipped three tackles in breaking out from around halfway, and Alan Auld finished off from about 35 metres.
Lang missed the conversion, but barely a minute into the second half the full back gathered a Kelso kick around halfway and ran the ball back to ignite a thrilling and productive move. Grant MacDonald and Jericevich joined in, and from swift recycling close to the Kelso line Cassie chipped ahead between the posts and won the race to touch down. Lang converted, and though Cooper cut the margin to just three points with his third penalty goal GHA soon had their fourth try. From a Kelso throw-in that misfired about 10 metres from their own line Robbie Glen grabbed the loose ball and galloped over. Though Lang could not convert, the home lead had stretched to 24-16 after 51 minutes. Buckley was dismissed two minutes later, though it was only in the final quarter that GHA unleashed their try-spree. Murray Houston's pop-pass off a five-metre scrum sent Henderson in after 61 minutes, and when James Couper (only a couple of minutes on the field) played an old-fashioned scissors move with Hefin O'Hare close to halfway it opened the way for Cassie to cut through for his second try. Lang converted both for 38-16 in 64 minutes.
Cassie's third try (off Henderson's lead-up) sparked a finale of three in the final five minutes. MacDonald's scrummage pick-up well inside the home half and Henderson's break up the right touchline left Jericevich to sprint away from more than 40 metres out, and Alan Auld's charge up the other flank opened the way for Robbie Glen to finish off. Lang converted the last two.
Source: Bill McMurtrie