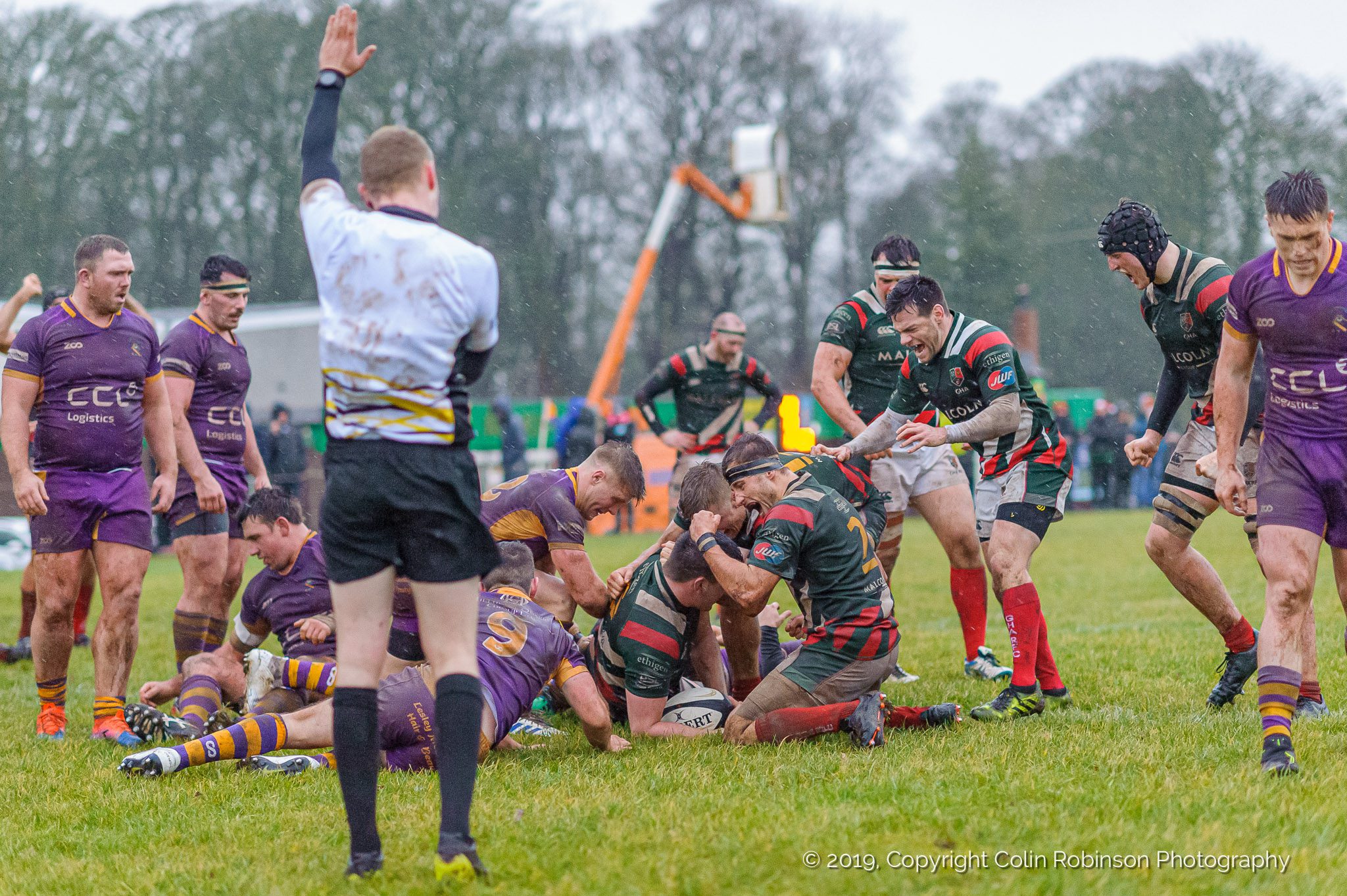 GHA RFC MATCH 417: MARR RFC 15 – 17 GHA RFC
2019/2020: Scottish Premiership
| | |
| --- | --- |
| MARR RFC  |  GHA RFC |
R. McGee
15
G. Mollison
J. Scott
14
J. Edgar
G. Paxton
13
C. Lonergan
(c) C. Bickerstaff
12
A. Hughes
R. Dalgleish
11
A. Purewal
C. Sturgeon
10
J. MacKinnon
J. Preston
9
A. Gillman
B. Sweet
1
T. Brogan
O. Rossi
2
D. Ewing
W. Farquhar
3
E. McLaren
E. Hamilton-Bulger
4
A. Barnett
F. Grant
5
J. McCarthy (c)
M. Pearce
6
A. Kerr
R. Brown
7
M. Ryan
B. Grant
8
L. McCutcheon
A. Muir
16
K. Chernick
C. Henderson
17
M. Fox
C. Cunningham
18
M. Marinković
F. Hazel
19
G. Baird
C. Inglis
20
A. Lamb
Brown, Pearce
Try
Edgar, Kerr
Sturgeon
Con
MacKinnon (2)
 Sturgeon
Pen
MacKinnon
DG
Referee
Mr R. Mabon
Fortress Fullarton has fallen, as a superb defensive display from the visitors saw them take Marr's unbeaten record this season and annexe the Bill McLaren Shield with a win which few outside Braidholm saw coming.
"Defences win games" is more of an association football belief than a rugby one, but, it was defence which carried the visitors to victory in this match. Marr dominated possession and territory, but their thrusts repeatedly foundered on the green and red wall which GHA built.
Conditions were against running rugby, this was an arm wrestle, but GHA coped better and thoroughly deserved to triumph. They had first use of the strong wind which blew down the field, and took the lead against the run of play, when right-winger James Edgar intercepted just inside his own half and outpaced the cover for the opening try, converted by James McKinnon in seven minutes.
Marr hit back, but when their first incursion into the visitors' 22 ended in the frustrating concession of a penalty after eight phases, one sensed this would not be another easy home win for the league leaders.
It took GHA until the 33rd minute to break into the Marr 22, but, when they did, they made the incursion pay, when a Marr offence allowed McKinnon to kick a penalty and make it 10-0 to the city side at the break.
Would that be enough? That was the big question at the break; and when Colin Sturgeon opened Marr's account with a 53rd-minute penalty, we awaited the comeback.
Instead, it was GHA who came back, and on the second phase from a maul at an advancing lineout drive, Adam Kerr got over, for McKinnon to convert via both posts and the bar to make it 17-3. Things had just got harder for the league leaders.
Marr got a break in 62 minutes, when GHA's Milan Marinkovich picked up a yellow card, the home team taking immediate advantage from the penalty when Mackenzie Pearce forced his way over for an unconverted try.
This gave the league leaders a bit of impetus, but the visitors' superb defence kept them out until the 73rd minute, when Robert Brown broke through for a conversion, which Sturgeon converted to make it a two-point game.
It was all Marr from then on, but GHA continued to put up a defence which put Rorke's Drift to shame, and when, from right on the halfway line, Sturgeon sent a penalty just past the post, GHA got their reward for an absolutely fantastic defensive performance.
"We produced an 80-minute performance and got our reward," said GHA coach Trevor Carmichael. "Our defensive effort was fabulous, it was a complete team performance and we now look to kick on from here and build on today's result. I could not be more proud of the team."
Marr's Craig Redpath said: "Every credit to GHA, their defence was fantastic and they took their chances.
"They played the conditions better, we gifted them seven points, but we made too many mistakes. However, that should not detract from a tremendous defensive effort which won them the game."
Source: The Offside Line, Saturday 8th December 2019