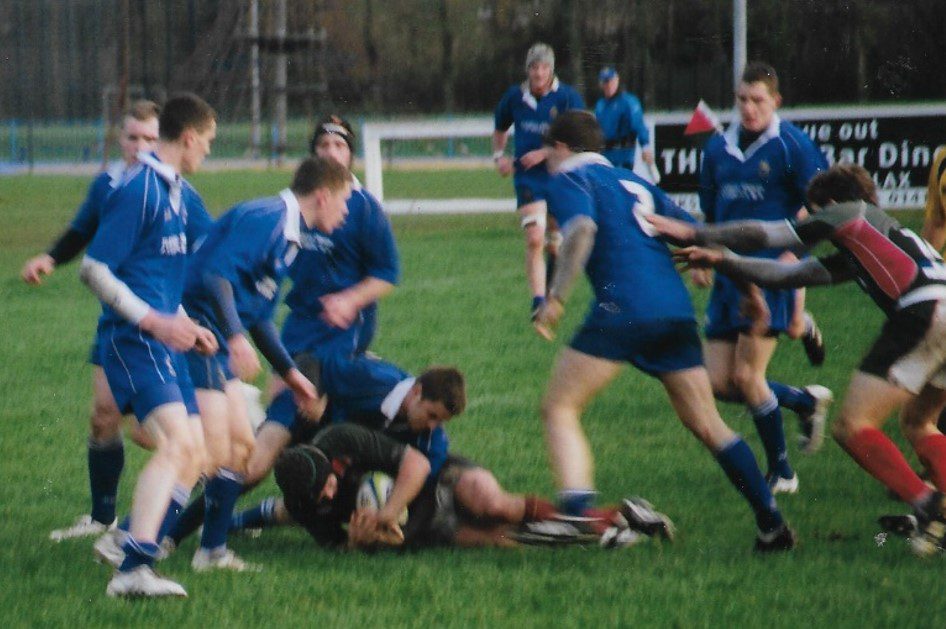 GHA RFC MATCH 181: GHA RFC 28 – 20 JED-FOREST RFC 
2009/2010: Scottish Premiership Two
| | |
| --- | --- |
| GHA RFC  |  JED-FOREST RFC |
G. Taylor
15
G. Walker
C. Binnie
14
R. Hogg
(c) N. Cassie
13
G. Young
R. McClymont
12
D. Gobby
P. Hilley
11
L. Young
J. Noonan
10
E. Scott
A. Gillman
9
J. Hogg
G. Warnock
1
R. Ferguson
I. Nelson
2
M. Weekley
J. Low
3
J. Henderson
M. Gurran
4
G. Stewart
I. Smith
5
A. Hall
D. Stoddart
6
J. Cunningham
J. Pinder
7
D. Grieve
D. Kellock
8
D. Gillespie
J. Coffey
16
S. Raeburn
R. Jenkins
17
P. Thomson
O. Gilmartin
18
G. Taylor
R. O'Keefe
19
E. Fowler
Binnie (2), Taylor
Try
Gillespie
Noonan (2)
Con
Noonan (3)
Pen
Scott (4)
DG
Scott
Referee

TBC
Following reports from around the U.K. of storms sweeping up from the south, it was a pleasure to turn up at Braidholm to find the ground bathed in late autumn sunshine, with no sign of the forecast rain and a good crowd assembling.
Both sides were at pretty much full strength as Jed kicked off from the Clubhouse end into the strong sun, the kick being safely gathered by Ian Smith and a kick from James Noonan took play deep into the Jed half. However at the ensuing ruck, the home side were penalised and Jed were able to clear upfield. From the lineout, Jed kicked into the GHA half and a fumble on the dropping ball, returned the advantage to the visitors. Desperate defence within their 22 metre area saw GHA clearing the danger back downfield. Andrew Gillman, as usual, continued to harass the visitors' defence and with Roy Laidlaw, the former Scotland scrum half in the stand, one wondered if Roy recalled his first visit to Braidholm as a youngster, all those years ago.
Play continued to move from end to end with GHA conceding a number of turn-overs in promising attacking moves. Jed were awarded a penalty and the ball was kicked to the far corner and from the line out, GHA were penalised for a late tackle and Ewan Scott made no mistake with a kick from the home 10 metre line. GHA 0-3 Jed
G.H.A. continued to concede penalties and to lose the ball in tackle situations and Jed moved towards the home line, where a series of rucks allowed Jed number 8 Darren Gillespie to pick up and power over for a well taken try. Ewan Scott kicked the attempted conversion wide. GHA 0 – 8 Jed
This score seemed to galvanise GHA into greater efforts and following some excellent handling and kicks from James Noonan, a scrum 10 metres out saw the ball going through the line to allow an intruding Gregg Taylor to surge forward for the home side's opening score. James Noonan was unsuccessful with the conversion attempt. GHA 5 – 8 Jed
Jed kicked off and quickly took play back into the home half of the field where an infringement allowed Jed number 10 Ewan Scott to add to his tally with another penalty. GHA 5 – 11 Jed
Jamie Pinder was showing some excellent attacking skills and from one surging run, a ruck was set up on the Jed line and the ball was swept out to the far touch line where a good take by Chris Binnie allowed the home winger to cross for a well taken try. The difficult conversion attempt by James Noonan was well judged and with half time approaching the home team took the lead for the first time. GHA 12 – 11 Jed
Just before half time, number 4 Mike Gurran had a powerful run but he was tackled just short of the Jed line and the players and officials returned to the dressing rooms for "sustenance.
Half-Time Score: GHA 12 – 11 Jed-Forest
GHA kicked off and as Jed swept upfield, the home side were penalised for being off side and from 30 metres out Ewan Scott, the Jed stand off made no mistake with his kick. GHA 12 – 14 Jed
There now ensued a period of sloppy play from both sides with countless knocks-on and turnovers and as Jed were adjudged off side once more, James Noonan kicked a penalty to retake the lead. GHA 15 – 14 Jed
Jed had one really promising move when from a kick ahead, their entire back line, assisted by several forwards, bore down on a depleted GHA defence, but the defence held and a good clearance took play back to half way. Niall Cassie had another surging run down the near touchline followed by an excellent pass to Jamie Pinder, but he was stopped short of the Jed line. Soon after, James Noonan converted a penalty award to extend his side's lead. GHA 18 – 14 Jed
Not to be outdone, Jed continued to press and again Ewan Scott reduced the leeway, this time with a drop goal. GHA 18 – 17 Jed
With the home spectators and the visitors looking at their watches and wondering what the result would be, GHA were awarded a penalty on the far side, about 20 metres from touch and as the visitors defence concentrated on the possibility of a home lineout or a quick tap, Noonan astutely kicked straight across field where an onrushing Chris Binnie safely gathered and fell over for his second try. With a conversion kick from near the stand side touchline, Nonan brought out full points. GHA 25 – 17 Jed
With the clock approaching 80 minutes, Ewan Scott converted another penalty for the visitors. GHA 25 – 20 Jed
A good run from defence by Gregg Taylor took play to the half way line where a late tackle allowed James Noonan a kick from where the ball landed and he made no mistake to finish the scoring with a penalty.
Full-Time Score: GHA 28 – 20 Jed-Forest
With no league match on Saturday 21st November, G.H.A. look forward to the visit of Kelso for the return fixture on Saturday 5th December 2009.
Man of the Match: Chris Binnie
Source: Bill McMurtrie