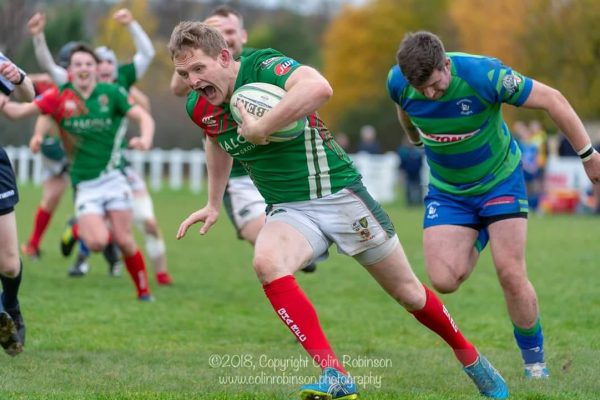 GHA RFC MATCH 392: HAMILTON RFC 47 – 50 GHA RFC
2018/2019: National League One
| | |
| --- | --- |
| HAMILTON RFC  |  GHA RFC |
R. Jamieson
15
G. Mollison
B. Plant
14
J. Edgar
J. Howatson
13
C. Lonergan
S. Whitelaw
12
R. Findlay
M. Priestly
11
B. Addison
O. McLeish
10
C. King
E. Whelan
9
M. Houston
S. Leggate
1
M. Scott (c)
G. Richardson
2
D. York
T. McLaughlin
3
M. Fox
C. Inglis
4
L-M. Mavunga
J. Bruce
5
J. McCarthy
G. Brodie
6
A. Kerr
S. White
7
D. Malcolm
J. White
8
R. Angus
D. Carr
16
T. Mullan
S. Alexander
17
B. Kaspar
R. Brown
18
G. Baird
T. Decelle
19
A. Purewal
N. Kennedy
20
J. O'Brien
Plant (2), Brodie, Brown, Carr, Whelan, Whte
Try
Mollison (2), Addison, Houston, Lonergan, McCarthy, Scott
McLeish (6)
Con
Houston (4), Baird (2)
Pen
Baird
DG
Referee
Mr G. Pounder
Hamilton lost to visitors GHA by 50 points to 47 in a ding dong battle at Leigh Bent. The loss was hard to take for coach David Gemmell who had seen his depleted team battle hard throughout the match and snatch an eleven point lead with under 10 minutes left on the clock.
The match turned on a controversial refereeing decision when Hamilton lock, Jack Bruce was sin binned with just 5 minutes remaining, meaning Hamilton's defence had too hold out against GHA's massive forward power. Sadly they were unable to do so. "The boys played well throughout" Said Gemmell. "We looked after the ball, and scored some great tries, but their dominant scrum cost us dear. Our injury count didn't help, but the lads who came in fronted up well and went toe to toe with a very good GHA side. 2 Bonus points lifts us off the bottom."
The scoring began in 5 minutes when Hamilton failed to clear their lines from the kick off. GHA chose to scrum a penalty in mid field, and a clever switch of play behind the scrum gave centre Charlie Lonergan a clear run in under the posts. Hamilton hit back immediately through Josh White after Mcleish had pushed play deep into the GHA corner. White crashed over from the resulting lineout maul.
GHA reclaimed the lead with a soft try when full back Mollison entered the back line and went through 2 tackles to score out wide. No conversion. As the intensity grew tempers frayed and on 20 minutes both sides had a player sin binned for their aggressive approach to the ruck. GHA were awarded a penalty, and moved the ball quickly through the hands from one side to the other before McCarthy went over for a converted try.
The penalty count against Hamilton continued to rise and put them under real pressure, and yet with typical Hamilton flair their backs broke from their own 22 to take play deep into the GHA 22. A quick penalty and fast hands saw the ball shipped to the wing where Ben Plant forced his way over. McLeish converted from the touchline.
GHA picked up their Bonus Point try with 5 minutes left of the half, their scrum putting Hamilton under extreme pressure leaving a gap at the base for scrum half Houston to dart over and convert. Still Hamilton would not lie down and with the half drawing to a close showed the patience so lacking in recent weeks, moving the big GHA pack from left to right and back before releasing the ball to the backs whose quick hands got the ball to Plant for his second, again converted by McLeish.
The second half saw the pattern repeated. GHA scored quickly through Mollison again after great off load from stand-off Cameron King. Hamilton went back on the attack immediately and after some slick handling, Howatson found Brodie on his shoulder to send him in under the posts for Hamilton's try bonus point. 5 minutes later Whelan showed his great support lines to dart in out wide tying the scores at 33 apiece.
GHA came again but Bulls defence restricted them to a penalty goal from substitute George Baird, but that lead was short lived. Robert Brown came on and broke the defensive line to score under the posts, suffering a serious shoulder injury in the process to add to Hamilton's injury woes. Then prop Darren Carr used his low centre of gravity to barrel over under the posts to take Hamilton out to 47 – 36.
In such a high scoring game however there was no time to rest on their laurels, and GHA did indeed come back at Hamilton in the 74th minute. Using their forwards in pods of three they battered the Hamilton line in multiple phases until captain Michael Scott forced his way over. Hamilton, with a mere 4 minutes left on the clock showed great determination, but the referee's decision to bin Bruce left them short handed and winger Addison scored what proved to be the winner with 2 minutes left. Hamilton closed the match camped on GHA's line but the clock beat them in the end. This was a great game for the neutral spectator with a bit of everything on show.
Source: Hamilton RFC, Saturday 10th November 2018