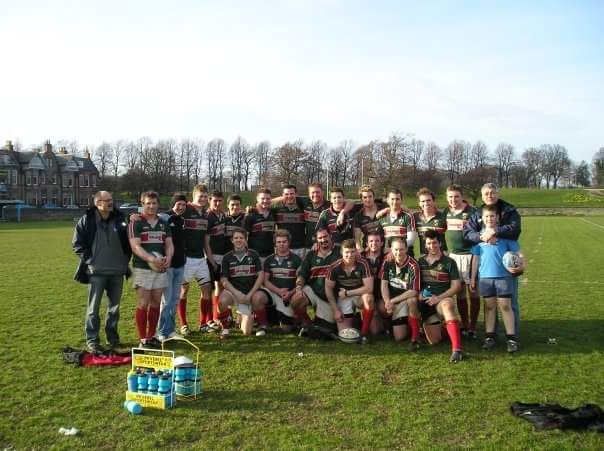 GHA RFC MATCH 120: EDINBURGH ACADEMICALS FC 25 – 10 GHA RFC 
2006/2007: Scottish Premiership Two
| | |
| --- | --- |
| EDINBURGH ACADEMICALS FC  |  GHA RFC |
Q. Gardiner
15
C. Binnie
J. Oliphant
14
R. Watson (c)
L. McCann
13
N. Cassie
JM. Howison
12
A. Bulloch
D. Rattray
11
R. McClymont
G. Douglas
10
M. Dunn
M. Campbell
9
A. Boag
D. MacLeod
1
J. Welsh
J. Edwards
2
D. Ziolo
A. Marsh
3
A. Baldioli
E. Stuart
4
G. Williamson
N. Pike
5
A. Williamson
(c) D. Teague
6
A. Rennick
S. Paterson
7
G. Harkness
G. Campbell
8
S. Kearns
G. Reid
16
J. Coffey
P. Burns
17
L. Hazelton
R. Lovat
18
N. Barrett
S. Walker
19
R. Jericevich
Gardiner, McCann, Marsh
Try
McClymont (2)
Douglas (2)
Con
Douglas
Pen
Douglas
DG
Referee
Mr C. Brett (West RRS)
Edinburgh Accies coach Ian Barnes maintained going into Saturday's final Division Two rugby encounter against GHA at Raeburn Place that, with promotion assured, their main focus was now the Scottish Cup rather than any attempt to overhaul champions-elect Stirling County.
Taking their cue from Barnes it seemed Accies players were on message as, having gone 17 points ahead after 10 minutes on their way to an eventual 25-10 win, they collectively switched off in a way that suggested the league points were in the bag so they had to save themselves for a home Cup quarter-final against either Stirling or Hawick in a fortnight. The danger with that approach – GHA eventually turned up but too late to seriously challenge the inevitability of a home win – is that bad habits creep in which is why Barnes was observed reading the riot act at half-time. "We switched off and lost our shape and players had to be told," remarked the ex-Scotland second row afterwards. Content-play "We can play better than that and will have to if progress is to be made in the Cup."
Certainly, compared to their recent Cup win at national champions Currie this was a pale imitation of the 'real' Accies though perhaps allowance has to be made for the fact that there is sufficient quality around to have raised their performance if required against GHA. And the bottom line is Accies did produce the goods sufficiently to knock opponents, also bound for Division One as a result of league reconstruction allowing three teams to go up, completely out of their stride.
In those opening moments stand off Gavin Douglas kicked magnificently, the pack drove forward with urgency and aggression while the foundations were laid of an utterly dominant line-out in which Argentinian-born Ed Stuart showed the capability to be a star at top club level next season as befits someone who has had a spell with former European Cup participants, Grenoble. That GHA had few answers was acknowledged by their coach Walter Malcolm, who said: "Accies' line-out functioned a lot better than ours and up until we started to get it together at half-time I felt like going home because they were so far in front. "But we rallied and could have had a couple more tries." As for any dress rehearsal for Division One Malcolm was adamant that personnel will be different. "We are already looking at four or five positions to be strengthened," he said.
By contrast Accies when in the mood look a team ready to be competitive higher up the scale and assistant coach Jim Renwick seemed more concerned about the prospect of facing his and Barnes' old club, Hawick, in the Cup than mixing with the club elite on a weekly basis. "It's going to be difficult facing Hawick if they get through to play us and I might have to hand my notice in," he quipped. In fact, don't rule out Accies going all the way – provided the message imparted by the coaches about competing for the full 80 minutes of a match hits home. Other Second Division outfits, notably Glasgow Hawks and Gala, have triumphed in the Cup and the Accies pack is robust enough to ensure possession for a back division in which adventurous kiwi Quentin Gardiner is rarely short of inspiration while Luke McCann runs excellent angles from centre. The pity was that will o' the wisp winger David Rattray retired early with a thigh injury and couldn't strut the stuff that has been earning rave reviews – but at least he proved his bravery when standing his ground in defence to collect the knock. Also, even with Rattray side-lined there was plenty of pace from John-Michael Howison and James Oliphant while teenage substitute Stuart Walker stepped off the bench to carry a torch for a thriving youth section with some strong running.
It is not only on the field that the Accies youths (known as BATS in recognition of contributions also made by Broughton and Trinity to a combined side) made their mark on Saturday, too. A party of youngsters from the Craigroyston area rolled up to cheer on coach and mentor Joe Edwards playing at hooker with some no doubt reading the glowing testimony penned by Barnes in the match programme. Wrote Barnes: "Since September Joe Edwards and coaches have taken over 400 sessions with 8500 attendees – and all without a pennyworth of support from the SRU." "We've got good youngsters coming through," confirmed Renwick who set aside frustration at potential not being realised on the day to note: "We maybe scored too early in going off the boil and while there can't be any excuses for the second half slump [Accies turned round 17-5 ahead] it's been a good league campaign with the promise of more to come provided the players keep their focus a bit better."
Almost from the kick off Accies struck with Douglas finding touch a few metres out for the jumpers to pirate possession allowing Gardiner to weave through. With six minutes gone Accies had doubled their advantage, Douglas, who was later to kick erratically, again setting up field position from which the pack rumbled over, Alastair Marsh grabbing the touchdown. A Douglas penalty to add to a brace of conversions had GHA rocking but with former Scotland centre Allan Bulloch showing neat touches winger Ross McClymont scored on an outside break. McCann's cut for the line after Edwards, Stuart and skipper Dan Teague had all come close should have sparked an Accies onslaught from 22-5 but again McClymont's accelerated into the corner for try number two. However, at least Accies had the last word through a brilliant drop goal from Douglas in broken play and the sky is surely the limit for a well balanced side who may only need a bit more concentration to start translating potential into trophies.
That is if – and depending on the outcome of Hawick's outstanding tie with Stirling – the Barnes/Renwick coaching duo are able to withstand the pressure of fulfilling any tie with their old club where not only were they trained to international standard but brought up to honour a rivalry that extends to this day – again as shown by programme notes referring to a recent Accies against Gala fixture. "If we were embarrassed afterwards by the Gala boys refusing to use our showers it was a reminder of how primitive our facilities are [the quest for a new clubhouse appears in the home straight after planning permissions were granted]…it was a bit rich. "Gala was, famously, the last major town in mainland Britain to get inside toilets." Lavatorial humour, perhaps, from Barnes – but they have a lot to smile about at Raeburn Place these days!
Source: The Scotsman, Monday 26th March 2007