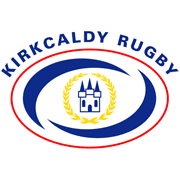 GHA RFC MATCH 4: KIRKCALDY RFC 22 – 20 GHA RFC 
2002/2003: Scottish Premiership Two
| | |
| --- | --- |
| KIRKCALDY RFC  |  GHA RFC |
C. Milne
15
A. Menzies
W. Berry
14
B. Edgar
C. Goodall
13
R. Armour
R. Dewey
12
B. Beagley
R. Gilmour
11
A. Scott
D. Petre
10
J. Noonan
B. Jones
9
R. Au
M. Thomson
1
R. Nolan
S. Brown
2
S. MacKinnon
G. Mangalo
3
D. Jamieson
S. Price
4
T. Carmichael
K. Fraser
5
J. Mundell
C. Wilson
6
A. Burke
S. Cain
7
J. Fitzpatrick
C. MacDonald
8
A. Plastow
P. Burns
16
I. Nelson
C. McConnell
17
J. Reid
M. Fleming
18
M. Loakman
 R. Paterson
19
N. Barrett
Dewey, Gilmour, Wilson
Try
Noonan, Scott
Gilmour (2)
Con
Noonan (2)
Gilmour
Pen
Noonan (2)
DG
Referee
Mr I. Heard (Gala YM)
Prior to kick-off the Fifers were looking for their first win whilst the new Glasgow combine had yet to taste defeat, that is all very different now.
The blues management took a big gamble on Saturday when they threw 17-year old apprentice Barry Jones into the problem scrum half position but with no experience of senior rugby and only one colts game behind him, the youngster from Dairsie emerged as one of the top performers in the Kirkcaldy side which won their first league game of the season.
His accurate service gave the Blues lots of the type of ball they have been looking for all season and altogether this was a performance which suggested the Beveridge Park side will not be anguishing in the lower reaches of the table for long
Neither side could claim ascendancy in the fractured first five minutes with several stoppages disrupting play and GHA lost full back Menzies with a facial injury. However, they won a series of penalties through Kirkcaldy carelessness. The second of those they gained from a five-metre lineout from which they were held up over the line.
This pressure directly led to their first try three minutes later. Quick scrummage ball opened a gap in the defence and blind side Winger Andy Scott popped up in the centre to go in for an easy try, converted by stand-off James Noonan
The visitors ought to have thought they were on the road to an easy win when they increased their lead to 10 points when Noonan slotted a penalty.
In the Kirkcaldy ranks, full-back Milne, recently back from a working stint away, brought the home side back into the game in the 20th minute, beating their man, he released the ball in the tackle to centre Rob Dewey who raced away to the try line for a score converted by Robbie Gilmour
This score transformed the Blues and two minutes later Cameron Goodall broke through and with replacement full back Barrett making a real mess of his kick the ball went loose. Newcomer Craig Wilson, another who had a pleasing debut was up in support to run in for his first Premiership try.
From a Blues throw-in on the right, Sturart Price took clean ball and with Damian Petre and Goodall combining well in midfield, space opened up for Gilmour to run in for an easy score which he converted himself.
This 19 point Kirkcaldy scoring burst in less than six minutes delivered a body blow from which GHA really did not recover. The initiative had swung strongly Kirkcaldy's way and in the remaining 15 minutes or so until the break they were very much in control.
The second half resumed in the same vein with play largely confined to midfield. The home crowd having feasted on Kirkcaldy back play in the first half, were encouraging their side to get the fourth try and a bonus point, however, their opponents had solid defensive qualities and the Blues efforts were well contained.
Equally the Kirkcaldy tackling gave nothing away and it was 24 minutes into the second period before the scoreboard moved again with Noonan kicking another penalty for GHA.
This award came from a harsh decision against the Blues that saw Goodall sent to the sin bin for 10 minutes for alleged persistent infringement but five minutes later Gilmour restored Kirkcaldy's nine points advantage with a successful kick from 30 metres.
Two minutes of normal time remained when for once in this second half the Blues concentration dipped, allowing Noonan to steal away on the right to score a try which he converted himself.
Having lost scores in added time in the last two weeks, Kirkcaldy showed real determination to hold onto their lead. Although more than six minutes extra were played the home team basically controlled play and twice in the dying minutes the hard working Kirkcaldy pack turned over GHA put-ins and there was never any chance that the Beveridge Park side would see a potentially winning lead disappear at the end.
Kirkcaldy coach Andy Henderson, while delighted that his side had at last secured a win in the league, had some cautionary words for his players afterwards: "After talking about being patient the team has now realised that nothing less than an 80 minute effort will get a reword. Hopefully this win will give confidence to the players and serve as a reminder that anything less than that will not get results. There are quite a few guys in the seconds just now who are ready to come into the firsts and everyone will have to battle for his position."
GHA co-coach Gavin Walsh said: "For the first time, the players found themselves in a crisis and they didn't respond. They found out that they have to remain composed under pressure and fight their way back."
Source: The Scotsman & The Glasgow Herald, Monday 23rd September 2002 & The Fife Free Press, Friday 27th September 2002.