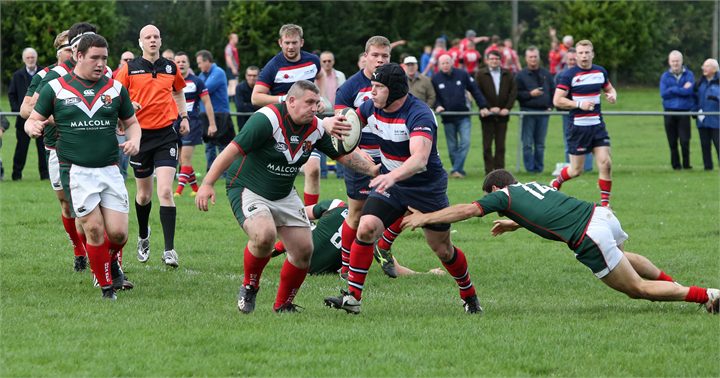 Aberdeen Grammar 18 GHA 23
GHA returned from the silver city with the proverbial gold medal after a hard fought victory over a determined Aberdeen Grammar side.
Aberdeen dominated the opening exchanges as they threw everything at the visitors but GHA's defence stood strong before eventually conceding a penalty to give Grammar a 3 point lead. Grammar then scored an opportunistic long distance effort from the proceeding kick off as a missed tackle allowed the home side to break and scrum half Morgan Ward was on hand to supply the finish.
GHA hit back with a penalty from Peter Jericevich however Grammar reinstated their 10 point lead 5 minutes later with a penalty kick of their own.
As the half wore on, GHA gradually began to stamp their authority on the game, especially in the set piece however a number of errors scuppered scoring opportunities. That was until just before half time when a well constructed attacking move saw full back Andrew Gilman race clear and his clever chip for the supporting Peter Jericevich allowed the scrum half to go over before the conversion drew GHA to within 3 points on the half time whistle.
Half-Time: Aberdeen Grammar 13 – 10 GHA
GHA took the game by the scruff of the neck in the second period with Grammar's opportunities limited to a few opportunistic breaks that the GHA defence were able to deal with. GHA drew level with another Jericevich penalty before left wing Euan Greer finished well from a neatly worked move.
Jericevich then extend GHA's lead further with another penalty to give the visitors a 23-13 lead that would ultimately prove unassailable,
Grammar to their credit came back strong in the last 5 minutes and Hooker Billy Bissett went over from close range after some sustained pressure on the GHA line.
GHA survived another late scare as Grammar broke from behind their own line but it was the GHA line out, dominant all afternoon, which had the final say by winning Grammar ball on the last play of the match which was then cleared to touch to bring the game to a close.
Aberdeen coach Stuart Corsar said: "I did warn the player Jericevich would be dangerous, but in fairness our own number nine Morgan Ward had a good game. We are still in the building process, and although I was disappointed to have surrendered an early 10-point lead, I was pleased with our rally which gained us a losing bonus point right at the death. An injury to flanker Ali Mackie disrupted the pack, but we were a vast improvement on last week. We now need to start winning games."
Aberdeen captain Greig Ryan returned to the back row for the game and added: "We are a young side who are learning all the time. We have yet to play for a full 80 minutes, but we are getting there."
Aberdeen Grammar: Sean Murray, Alex Ratcliffe, Sam Knudson, Conor Lavery, Grant Walker, Alex Hagart, Morgan Ward, Matthias Schosser, Billy Bisset, Murray McCallum, Stuart Smith, Aaron Robertson, Ali Mackie, Greg Ryan (c), Louis Kinsey – Replacements: Peter Gillies, Colin Neilson, Ed Nimmons, Andrew Ovenstone, Peceli Nacamavuto
Scorers: T – Bissett, Ward C – Hagart  P – Hagart (2)
GHA: Andrew Gillman; Rangi Jericevich, Niall Cassie, Andy Henderson (captain), Euan Greer; Andrew Goudie, Peter Jericevich; Scott Carson, Donald Malcolm, Mike Robertson, Adam Barnett, Chris McGeoch, Paul Harkins, Ross Angus, Grant MacDonald – Replacements: Erik Cavan, Jamie Leslie, Ryan Jenkins, Alan Auld, Gordon Adams.
Scorers: T – Greer, P. Jericevich C – P. Jericevich (2) P – P. Jericevich (3)
Referee: Mr F. Balharry (Caledonia RS)