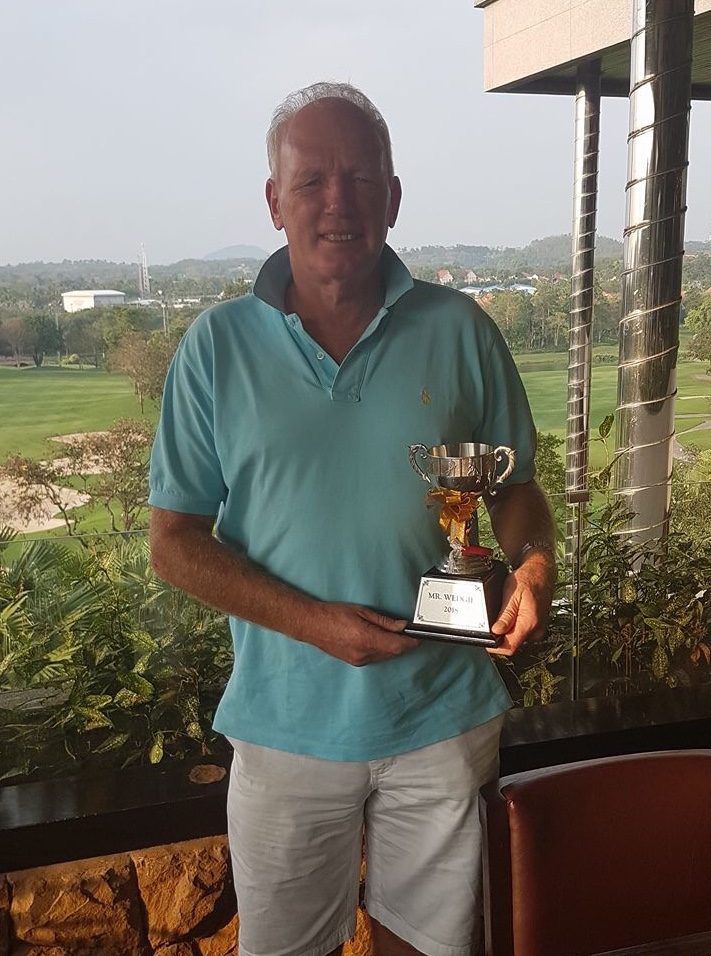 First of all, congratulations are due to our very own Jeff McGhee on his first win on the Asian Tour. (pictured) We are however unsure whether the trophy should say "Mr. WEEGIE" rather than "Mr. Wedgie" though your correspondent always understood a "wedgie" was something completely different! Well done Jeff !!………..look out for the handicap convener!!
The all-important dates for your diaries are as follows….
SPRING MEETING
15th April 2018 – at Prestwick St Nicholas G. C. Meet there at 13.00 for a Bacon Roll and Coffee. The 1st time tee time is 14.00.
A two course meal in the dining room will be provided following our round at 19.00.
We hope to have a member(s) of the Hilley family along to present the "MARTIN HILLEY TROPHY" to the first winner.  2 buggies have been booked (£25.00 each). 
It is also hoped that we will have the minibus to convey 12 people from GHA RFC to the course (£10 donation).
Collar, tie and jacket are the required dress code. The subsidised cost of this outing is £60.00 per person.
The courses for the Summer Meeting, 8th July 2018 and the Autumn Meeting, 9th September 2018 will be selected from Barassie, Muckart, Ratho Park, and West Kilbride. Details will be advised when confirmed.
WEEKEND TRIP
Following the success of last year's weekend trip, this year the weekend is booked once again for Cally Palace on the 3/4/5 August 2018.
Full details will be published when completed. 
The 1st deposit for Cally Palace is £60 each and we have 12 places.
In the meantime the £5 membership and £25 deposit for each outing (16 places),
 is payable to Keith Jones or direct to
our Bank Account at Royal Bank of Scotland, Sort Code 83-20-22, Account name "Braidholm Golfing Society" A/C 14926360.
to let us know what event you are booking, also include any details of buggy and dietary requirements.
Following on from last year, only payment of your subscription and the deposit will book your place for each outing. No places will be reserved otherwise. 
There was interest in reviving the Singles competition but so far this has not resulted in more than a handful players putting their name forward.  We need
minimum of 16 to make this viable! Please email Alan Thomson to enter.
Look forward to seeing you out there soon!