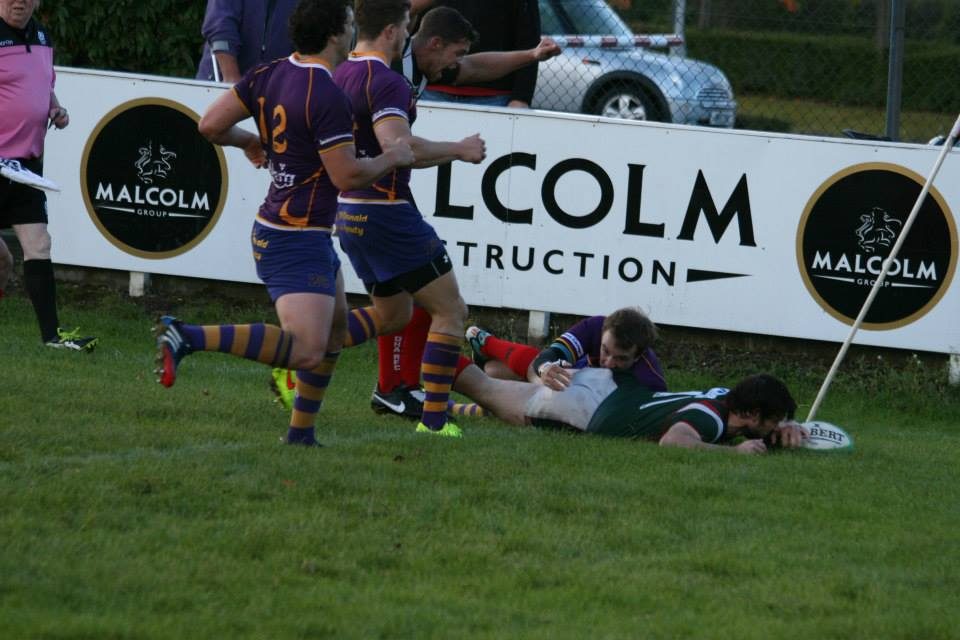 GHA RFC MATCH 288: GHA RFC 35 – 34 MARR RFC
2014/2015: National League One
| | |
| --- | --- |
| GHA RFC  |  MARR RFC |
A. Gillman
15
R. McGee
R. Jericevich
14
S. Bickerstaff
Go. Adams
13
A. Rankin
N. Cassie
12
C. Sturgeon
E. Greer
11
S. Howie
A. Goudie
10
G. Ness
P. Jericevich
9
G. Baird
S. Carson
1
P. Slave
(c) D. Malcolm
2
S. Adair (c)
M. Robertson
3
F. Ferguson
A. Barnett
4
S. Nimmo
C. McGeough
5
K. Kirk
A. Auld
6
F. Grant
R. Angus
7
P. Burke
G. MacDonald
8
P. Vallance
E. Cavan
16
W. Farquhar
J. Leslie
17
C. Craig
R. Jenkins
18
D. Rowe
P. Harkins
19
A. Mill
H. O'Hare
20
R. Gault
Barnett, Cassie, Gillman, Greer, McGeough
Try
Baird, Burke, Farquhar, Sturgeon
P. Jericevich (2)
Con
McGee (4)
P. Jericevich (2)
Pen
McGee (2)
DG
Referee
Mr M. Hose (Caledonia RS)
A try by Euan Greer deep into added time snatched victory for GHA against Marr in an enthralling, exciting contest at Braidholm on Saturday. The win preserved GHA's 100% record in the BT National League, five out of five with a four bonus points, and placed them out on their own at the top of the table, albeit only a point ahead of Selkirk.
Greer's try, GHA's fifth, was the fourth time in the match that the lead had changed hands, and for all but six minutes it was the visitors who were ahead in the second half. That was a clear indication that Marr had more rugby in them than might have been measured by their place near the foot of the table after only one win. In more than points scored on the day, the visitors ran the hosts close. Indeed, when Scott Carson, diving over a tackle, was sin-binned with little more than quarter of an hour left it that seemed that Marr could be heading for victory with a 34-27 lead.
However, it was four other yellow cards which had more significant influence on the match. Marr scored two of their four tries while Chris McGeough was in the sin-bin early in the second half, the GHA lock having infringed close to his own line. Those scores, with Rory McGee's conversions, took the visitors to a nine-point lead.
Marr, though, suffered more from seeing yellow. By the time Carson returned no fewer than three visiting players were in the sin-bin. Grant Baird was yellow-carded for the same reason as the GHA prop whereas two of his colleagues, Scott Nimmo and Paul Burke, infringed by what the late Bill McLaren would have called preventing fair release of the ball.
Right from the start Marr sent out a warning of their intent. The first 10 minutes belonged to them, and they would have had the early lead if McGee had not been wide with a penalty.
However, GHA scored in each of their first two sorties into Marr territory. Niall Cassie's break and kick ahead procured a lineout in the left corner from which McGeough was driven over by his fellow forwards, Peter Jericevich converting, and a clean break by Andrew Goudie let Cassie finish off for a 12-0 lead in 14 minutes.
Marr struck back with tries by Burke and Colin Sturgeon bracketing a Peter Jericevich penalty goal. McGee converted both tries, and when he kicked a penalty goal on the half-hour Marr were ahead for the first time (17-15). But the home team were not behind for long as another Cassie break up the left touchline allowed Andrew Gillman to finish off, with Peter Jericevich adding the goal points.
GHA's interval lead did not last long as Marr twice exploited numerical advantage early in the second half. William Farquhar was driven over from a close-range lineout, and Baird scored by poaching GHA scrum ball in front of the posts, McGee converting both tries for 31-22.
When McGeough returned to the field he soon played a vital role in GHA's bonus-point try as he secured possession from a close-quarter penalty lineout and handed on for Adam Barnett to be driven over. The home deficit was down to four points.
Another McGee penalty goal and then Carson's yellow card seemed to turn the game in Marr's favour. But the pendulum swung for GHA with Marr's three yellow cards. Peter Jericevich kicked the penalty goal from the first of those cards. The margin was back down to four points, and by the time Carson returned to the field Marr had only 12 men on the field.
A further twist in a frantic finale was that Hefin O'Hare, only briefly on as a replacement, was injured, and he was GHA's only substitute back. Greer, who had been replaced by O'Hare, had to return to field even though limping. So when in what was to be the final play GHA swept from the right across the field to stretch the depleted opposition it was Greer who had to sprint as fast as he could to dive in at the corner. Peter Jericevich's conversion miss didn't matter.
Source: Bill McMurtrie