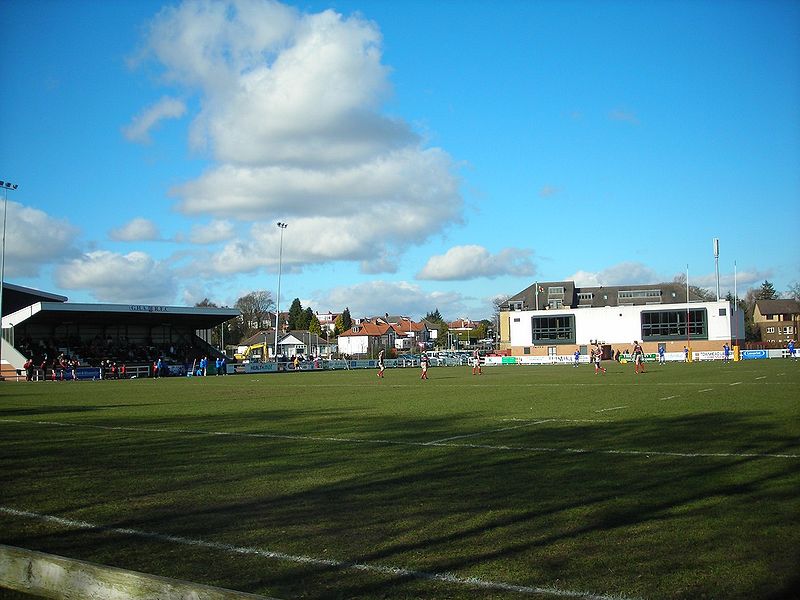 As those cold winds continue to bite, lets try to find some warmth down memory lane with some much missed club rugby from years past.
As February 2004 rolled round, GHA knew exactly what they had to do to retain their Premiership status. This knowledge paired with the determination and strength they had been showing for months would be tested further against Heriot's.
THE SURVIVAL FIGHT GOES ON
GHA RFC MATCH 42: GHA RFC 23 – 14 HERIOT'S FP RFC
2003/2004: Scottish Premiership One
| | |
| --- | --- |
| GHA RFC  |  HERIOT'S FP RFC |
S. O'Donnell
15
J. Thompson
R. Watson
14
M. Teague
R. West
13
N. Armstrong
I. Leighton
12
D. Arned
A. Scott
11
F. Smeaton
J. Noonan
10
A. Monro
S. Cowan
9
I. Wilson
C. Hastie
1
C. Sinclair
G. Inglis
2
D. Linton
G. Walsh
3
G. Talac
I. Smith
4
A. McIntosh
J. Eddie
5
J. Osbourne
L. Hazelton
6
T. McVie
J. Fitzpatrick
7
S. McNeil
A. Plastow
8
J. Syme
R. Nolan
16
P. Barns
C. Pothan
17
A. McLean
I. Kennedy
18
A. MacDonald
19
N. De Luca
Watson, Penalty
Try
McIntosh
Noonan (2)
Con
Noonan (3)
Pen
Monro (3)
DG
Referee
Mr I. Ramage (Berwick)
GHA know what they have to do to remain in the top tier of the BT Premiership. Yesterday they achieved one of their objectives by defeating Heriot's at Braidholm in a match set against a dramatic backdrop of snow showers. Now they have to repeat the exercise in matches against Boroughmuir, Peebles and Hawick. The survival instinct is indeed strong.
Given an inspirational lead by Australian Andy Plastow, GHA's forwards, among whom Scotland under-19 cap James Eddie impressed, were much the more dynamic and by the second half were dominant. GHA also had a match-winner in New Zealand-born stand-off Jamie Noonan, who kicked 13 points to guide the Braidholm men to victory. In other respects, Noonan brought out much from a backline that gained in confidence throughout the game. As for Heriot's, their season has fizzled out. All the Goldenacre men can look forward to is a sunny start to next season, even if they will still finish in the top half of division one.
A penalty goal apiece by Noonan and his opposite number, Ander Monro, left the teams level at the end of the first quarter. Then the action. GHA were awarded a penalty five metres from the Heriot's line and opted for a scrummage. No.8 Plastow did all the work with his scrum pick-up and Heriot's were judged to have illegally prevented the score. The penalty try was easily converted by Noonan. Heriot's replied swiftly with a try from close range by lock Andy McIntosh but Monro's missed conversion left them two points adrift. At the other end, Noonan kicked a third penalty just before half-time to give GHA a 13-8 interval advantage.
Then came a spectacular try for GHA created by Noonan with a clever chip and gather before sending swift wing Rory Watson on course to the line. Noonan added the conversion to put the home side 20-8 ahead. A penalty by Monro was answered by a fifth goal by Noonan to restore GHA's lead to 12 points. This was pulled back to nine by a 40-metre effort from the Heriot's stand-off. Heriot's tried to conjure a score in the final minutes but GHA's defence stood firm.

Source: The Scotsman Sunday 8th February 2004