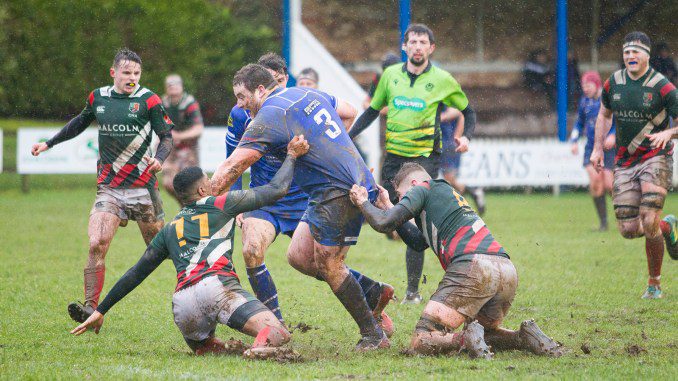 GHA RFC MATCH 422: JED-FOREST RFC 54 – 10 GHA RFC
2019/2020: Scottish Premiership
| | |
| --- | --- |
| JED-FOREST RFC  |  GHA RFC |
L. Young
15
R. O'Keefe
C. Young
14
J. Craig
Gr. Young
13
G. Mollison
R. Yourston
12
C. King
R. Marshall
11
A. Purewal
M. Mitchell
10
C. Armstrong
N. Stingl
9
G. Baird
P. Ferreira
1
E. Cavan
G. Paxton
2
D. Ewing
H. Meadows
3
S. Fisher
B. Saxton
4
A. Barnett
G. Law
5
J. McCarthy (c)
D. Grieve
6
A. Kerr
Ga. Young
7
M. Ryan
D. Buckley
8
L. McCutcheon
J. Ferguson
16
H. Clark
M. Weekley
17
M. Fox
M. Purves
18
M. Marinković
J. McGough
19
S. Simpson
J. Laing
20
A. Lamb
Yourston (3), Buckley, Laing, Marshall, Meadows, Gr. Young
Try
Craig
Yourston (7)
Con
Armstrong
Pen
Armstrong
DG
Referee
Mr G. Ormiston
On a day when Dennis threatened destruction throughout much of Scotland, Jed-Forest stormed to victory over GHA at Riverside with an eight try deluge, leap-frogging the Braidholm men in the Premiership table, and easing their relegation concerns.
Jed have built up a reputation as a top-of-the ground side, a team that revels in using their talented back division to play sevens-style rugby in the fifteens game but against GHA, in conditions of driving rain, a sodden pitch and a fierce wind, the home side's forwards showed skill, strength and confidence to sew the seeds of victory.
The other key factor was each team's psychological reaction to the inhospitable weather. In that context, it was Jed who were much less intimidated by the stormy conditions and indeed as the game wore on the Riverside team appeared to revel another side to their character.
"I think we're turning into a wet-weather team." suggested Jed's coach, Gavin Kerr. "We needed that performance after our last two games. We started well against the wind. In fact that's the best start we've made all season.
"We've got some good ball carriers. We knew we had to pull one out of the bag. Crucially our attitude was right. We controlled the ball very well today."
For GHA it was a below-par performance and one that has put the Braidholm club in a position where they are now in a fight for survival. "Today we just weren't good enough," was the frank admission of their coach Trevor Carmichael. "Our kicking and our kick-chase was not good. Jed scored some really good tries early on considering the conditions we were playing in.
"Overall we didn't play to our capabilities. We've now got a fight on our hands and pretty much a cup final against Musselburgh in a couple of weeks."
Jed were quick to show their defiance of the horrendous conditions by running out of defence. With two of the Young brothers and Robbie Yourston involved in clever inter-passing it was sevens in the mud and a try for Yourston, who then added the conversion.
A break by Harry Meadows brought Jed back into the GHA 22m area but when the home side were penalised for not releasing GHA had the chance to clear their lines. The kick, however, failed to find touch and when Rory Marshall gathered the ball, the wing sped over for a try converted by Yourstson.
A shocked GHA, however, recovered their composure, but it was a mistake by Jed that gave them their first points from a Ciaran Armstrong interception and a swift finish by Jordan Craig. Armstrong added the conversion before kicking a penalty .
But before the half was out, Jed struck again after two successive scrums deep in GHA territory, and pressure on the visitors' line that ended with Dom Buckley scrambling over and Yourston converting for a 21-10 interval lead.
Jed, playing with the strong wind at their backs, took little time to secure the bonus point after the break. Meadows showing soft hands for a hard prop to lay on a second try for Yourston, who also converted.
Then Meadows himself crashed over after deft pick-and-drive play by Jed, and again Yourston added the extras. The Jed centre then kicked his sixth conversion of a try by Gregor Young, after GHA had tried to pass the ball behind their own goal-line.
With the game well won, Jed still had the appetite for more tries, duly delivered by replacement Josh Laing and then in the final minute by Yourston completed his hat-trick, his conversion giving the Jed centre a personal tally of 29 points in the match.
Source: Alan Lorimer The Offside Line, Saturday 15th February 2020