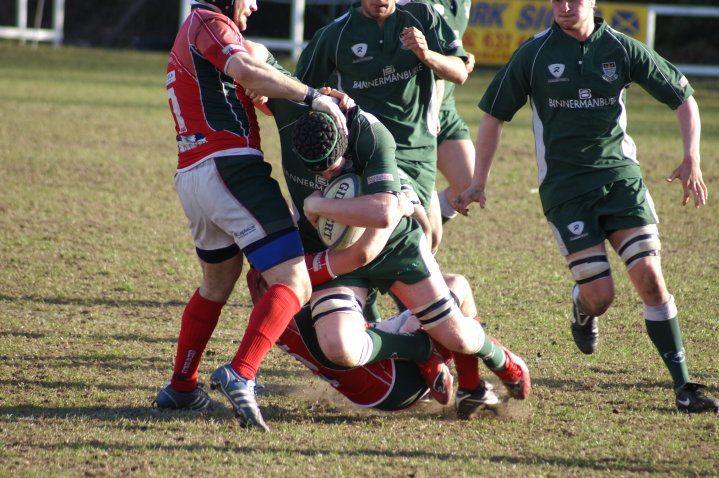 GHA RFC MATCH 190: GHA RFC 19 – 24 HAWICK RFC 
2009/2010: Scottish Premiership Two
| | |
| --- | --- |
| GHA RFC  |  HAWICK RFC |
R. McClymont
15
N. Renwick
P. Hilley
14
S. Anderson
(c) N. Cassie
13
J. Coutts
A. Rushforth
12
G. Hogg
R. O'Keefe
11
G. Johnstone
J. Noonan
10
D. McCracken
M. Houston
9
K. Reid (c)
G. Warnock
1
B. McNeill
J. Low
2
H. Scammell
A. Kelly
3
A. Marsh
I. Smith
4
M. Robertson
R. Jenkins
5
C. Charters
J. Auld
6
R. Gibson
J. Pinder
7
G. Lowrie
D. Kellock
8
D. Lowrie
I. Nelson
16
K. Davies
A. MacFarlane
17
S. Linton
B. Wamberg
18
K. Willison
C. Binnie
19
C. Ritson
Cassie
Try
Johnstone, Renwick
Noonan
Con
Renwick
Noonan (3)
Pen
Renwick (4)
Noonan
DG
Referee
Mr T. Coutts (Watsonians FC)
Hawick guaranteed themselves an immediate return to top-flight rugby next season after securing promotion with a 24-19 victory over outside contenders GHA at Braidholm on Saturday.
The Mansfield Park men had the target of taking three championship points from their final three games to ensure the step-up but attained their goal with two games to spare. "We wanted to bounce back to Division One and we've achieved this" said head coach Gerry McGuinness, adding; "This Hawick team has worked hard and in the end done very well". Hawick's backs coach, Deek Armstrong added "This was our goal and we've made it. We can relax now." after watching his charges nervously, who after a promising start to the game, lost their lead. "We let them come back into the game and they could certainly have won it."
While Hawick's success this season has been achieved without resort to importing players, that's a situation that may have to change as they face up to the harsher realities of life in the quicker lane. Certainly they will need to show more than they did on Saturday if they want to re-establish themselves in the top division.
Hawick will not look back on their promotion-winning game as a classic performance. For too much of the game they committed unforced errors, particularly kicking out of hand. Fortunately for them, GHA were equally culpable of erratic play. The Greens' cause, however, was steadied with a reassuring performance from veteran scrum-half Kevin Reid, who recently surpassed Alistair Cranston's record number of appearances for Hawick. Tighthead prop Alistair Marsh will also claim credit with three strikes against the head at vital times.
With Hawick putting fifty points past GHA at Mansfield Park back in October, they certainly could not afford to be complacent, with GHA gaining some good wins of late.
In the first half hour of play it was the home team that had the better of play and territorial advantage but could not turn all the pressure in to any points at all. It was in fact Hawick who scored first with a penalty goal by full back Neil Renwick. A clever chip kick from GHA scrum-half Murray Houston which, but for a wicked bounce, would surely have brought a try for winger Ruairi O'Keefe.
Almost immediately Hawick demonstrated how to take chances, centre John Coutta using his deceptive pace in a run out of defence to breach the GHA back-line, before delivering a perfectly timed pass to Renwick that allowed the full back to score under the posts before adding the difficult conversion.
Half-Time: GHA 0 – 10 Hawick
Two minutes into the second half Renwick added to his points tally with a second penalty goal. Scotland U'19 squad member Gary Johnstone then returned a failed clearance kick from just inside the GHA half, he made ground up to the twenty two and despite the attention of three opponents, he used his strength, pace and side-stepping to brush off the would be tacklers to score a brilliant solo try in the corner. Renwick was unsuccessful with the conversion
But just as Hawick seemed to be cruising away to a comfortable win, the Greens committed a midfield error that saw GHA centre Niall Cassie intercept and a run to the posts, leaving Jim Noonan with an easy two points. The visitors' nerves were left unsteadied when Renwick was off target with a penalty attempt and Noonan slowly clawed the home side back into contact with three penalty goals. Noonan then calmly dropped a goal to give GHA a one point advantage.
This seemed to spur Hawick on, quickly countering with two more Renwick penalty goals. GHA had a chance to hit back with a lineout in the corner, only for Hawick's forwards to resist the home side's efforts to force their way over for a try, leaving Hawick jubilant, relieved and most vitally, promoted.
Source: Hawick RFC & The Scotsman, Sunday 21st March 2010