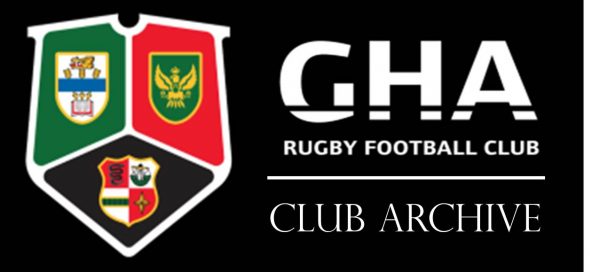 Fifteen years ago this weekend the newly amalgamated club Glasgow Hutchesons' Aloysians (GHA) played their first competitive match.
The new club would take their place in Premiership Two; thanks to Hutchesons' Aloysians RFC's Premiership Three title winning season of 2001/2002. Their first match would be played in front of the new Braidholm clubhouse, the home ground of fellow constituent club Glasgow Southern; against title favourites and West Coast rivals Ayr.
Against the predicted wisdom; GHA got the new era off to a winning start, showcasing the skill and determination that would see them complete a promotion winning campaign at the first time of asking.
NEW DAWN BREAKS WITH FIRST EVER VICTORY OVER TITLE FAVOURITES
Saturday 31st August 2002
GHA RFC Match 1: GHA RFC 23 – 20 AYR RFC
2002/2003: Scottish Premiership Two
| | |
| --- | --- |
| GHA RFC  |  AYR RFC |
A. Menzies
15
G. Ferguson
R. Watson
14
S. Manning
R. Armour
13
R. Good
B. Beagley
12
S. Magorian
B. Edgar
11
S. Hazley
J. Noonan
10
A. Reid
R. Au
9
M. Goldie
R. Nolan
1
G. Sykes
R. Finlayson
2
N. Meikle
D. Jamieson
3
J. Edwards
T. Carmichael
4
D. Kelly
J. Mundell
5
A. Good
G. Inglis
6
P. Burke
J. Fitzpatrick
7
T. Wright
A. Plastow
8
E. Manawaiti
I. Nelson
16
E. Logan
A. Burke
17
G. Tippett
18
K. Hunter
19
G. White
Beagley, Fitzpatrick
Try
Kelly (2), Magorian
Noonan (2)
Con
Reid
Noonan (3)
Pen
Reid
DG
Referee
Mr M. Stevenson (Stirling County)
With one of the two sides involved widely touted as potential winners of the championship, an innocent watching could have been forgiven for assuming that the side destined for glory was the nascent GHA, writes Ron Evans.
They were quick, inventive, abrasive and tactically decisive against a plodding Ayr who, after they woke up long enough to indicate why they should perhaps be considered contenders, only frustrated their support more by going back to sleep.
The sprightly James Noonan and Ayr stand-off Andy Reid exchanged penalties in the first ten minutes. But another couple of Noonan penalties deservedly widened the gap. With three minutes of the first half remaining, Ayr's Stewart Magorian cruised in for the opening try. Reid converted.
Damien Kelly surged over 13 minutes into the second half for Ayr.
The new club's first try came when Andy Plastow released Brett Beagley to score, Noonan converting. Eight minutes later Beagley beat three tackles to give the scoring pass to John Fitzpatrick, with Noonan adding the conversion. Kelly's second try brought Ayr to within three points, but GHA held out.
"Given Ayr's reputation we have to be delighted with that performance" said GHA co-coach David Wilson.
Source: The Scotsman, Monday 2nd September 2002