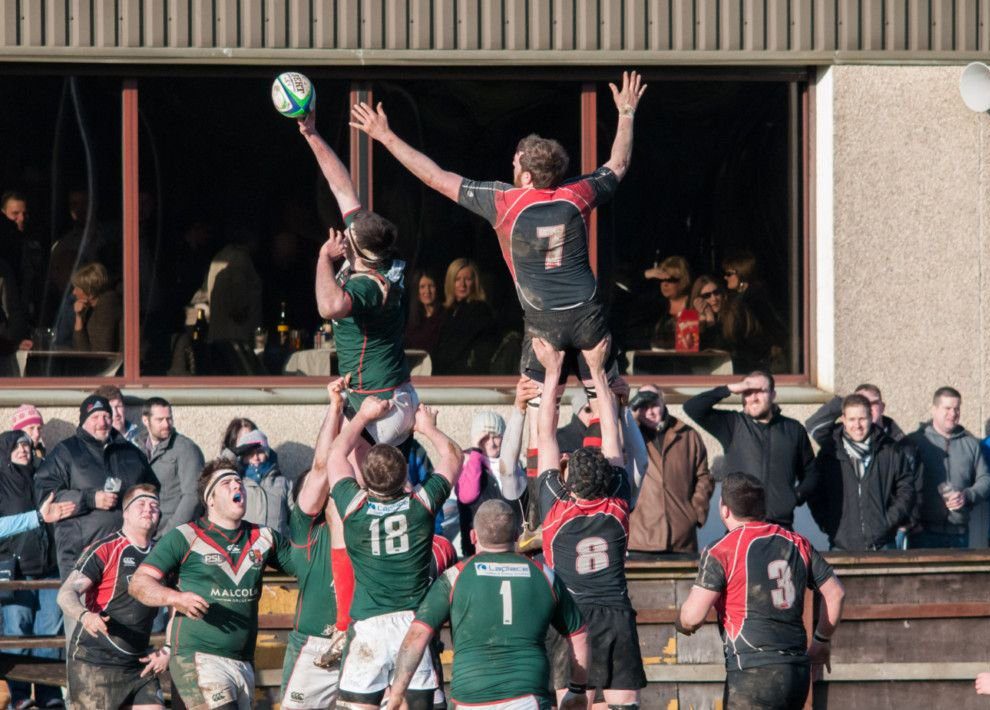 Biggar 7 GHA 14
As the season reaches the home straight there are still a number of teams fighting either for the promotion play off spot, or for their survival. GHA are currently in the former camp whilst Biggar are in the latter and Saturday's contest had all the hall marks that you'd expect from such a tussle.
It was GHA who were on the front foot for the vast majority of the game but struggled to penetrate Biggar's dogged defence. In the end, despite winning it is GHA who are likely to be the most disappointed as the failure to secure a bonus point meant they slipped to third in the table on points difference from Stewart's Melville. Biggar on the other hand came away with a losing bonus point which ultimately their defensive effort deserved and could be crucial in their own battle for position.
The first half was played almost entirely in the Biggar half but GHA failed convert numerous periods of pressure into points. A combination of handling errors as well as a few forced off loads were a constant theme of the GHA attack throughout.
Things did look promising at the end of the first quarter as an Adam Barnett break up the middle was supported by Rangi Jericevich who scored near the posts. Goudie slotted the easy conversion but missed a similarly straightforward penalty chance a few minutes later.
That was all that a pretty tepid first half had to offer score wise.
The second 40 was almost a carbon copy of the first except a lot more fragmented as the normally GHA attack got more desperate but numerous breaks were halted when the last pass would fail to go to hand or a fumble would allow Biggar to clear the lines.
One period of pressure did eventually pay off when Alan Auld was hauled down just a couple of metes short and from the base of the break down, substitute GHA Full Back Euan McKirdy spotted a gap at the side of the ruck and slipped through to score. Goudie slotted the conversion from wide out.
Biggar remained in the game with a determined defensive effort and with a little over 10 minutes to go they took their opportunity when a missed tackled allowed Number 8 Craig Simmonds to break clear and gallop in from the GHA 22. The conversion was successful.
That was Biggar's only real scoring opportunity of the game and GHA continued to chase further scores inside the last 10 minutes to no success.
This Saturday GHA welcome Kelso to Braidholm for the first of 3 home games in a row. It is an early kick off of 130pm due to the Scotland v Italy match kicking off at 230pm.
Biggar: Mark Bertram, Jonny Smart, Giles Boland, Andrew King, Graham Hunter, Jack Warnock, Andy Watt, Craig Bachurzewski, Andrew Muir, Calvin Henderson, Jamie Orr, Michal Mirosz, Mackenzie Pearce, Lewis McLachlan, Craig Simmonds – Replacements: Donald Voas, Ewan Stewart, Douglas Notman, Calum Taylor, David Reive
Scorers: T – Simmonds C – TBC
GHA Team: Chris Binnie; Rangi Jericevich, Max MacFarlane, Andrew Henderson, Alan Auld; Andrew Goudie, Peter Jericevich; Scott Carson, Donald Malcolm (c), Michael Fox, Adam Barnett, Chris McGeogh, Lewis Anderson, Ross Angus, Grant MacDonald – Replacements: Jamie Leslie, Erik Cavan, Paul Harkins, Euan McKirdy,  Murray Houston.
Scorers: T – R. Jericevich, McKirdy C – Goudie (2)
Referee: Mr F. Balharry (Caledonia RS)