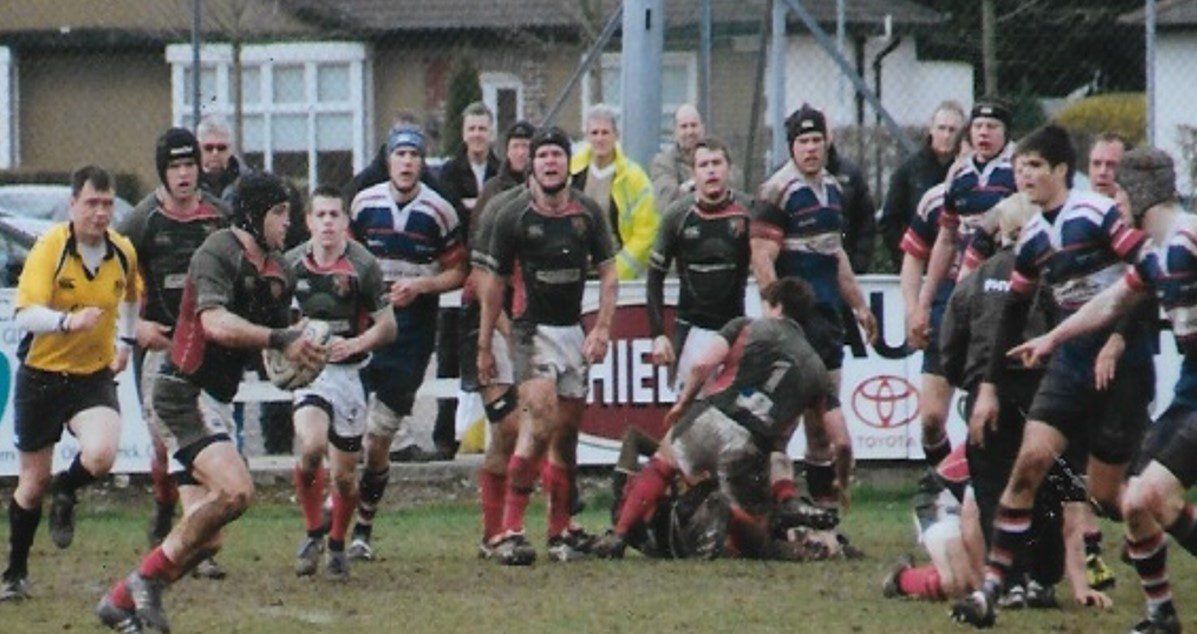 GHA RFC MATCH 191: GHA RFC 10 – 46 ABERDEEN GRAMMAR RUGBY 
2009/2010: Scottish Premiership Two
| | |
| --- | --- |
| GHA RFC  |  ABERDEEN GRAMMAR RUGBY |
R. McClymont
15
S. Aitken
R. O'Keefe
14
C. Phillips
(c) N. Cassie
13
P. Nelson
D. Dunn
12
C. Caine
C. Binnie
11
C. Scott
J. Noonan
10
M. Bennedick
A. Gillman
9
R. Lawson
J. Low
1
B. Henderson
A. MacFarlane
2
B. Russell (c)
A. Kelly
3
C. McConnachie
G. Warnock
4
M. Douglas
R. Jenkins
5
S. Warnock
J. Auld
6
M. Oatey
J. Pinder
7
T. McGinness
D. Kellock
8
A. Wilson
C. Landsburgh
16
G. Carson
M. Kidd
17
S. Bingham
D. Stoddart
18
M. Borowski
P. Hilley
19
C. Catto
McClymont
Try
Lawson (2), Aitken, Bennedick, Nelson, Oatey, Scott, Wilson
Noonan
Con
Lawson (3)
Noonan
Pen
DG
Referee
Mr M. Gray
Two GHA players; Rory Hughes and Adam Barnett, had the pleasure of being in a Scotland team who beat England at the weekend, on Sunday in the under-17 festival at Wellington Schools in Berkshire. But the club's first XV had no such good fortunate; quite the reverse as they went down against Aberdeen Grammar by 10-46 at Braidholm.
It could have been worse for GHA in the Premier Two match as Aberdeen would have notched a half-century if their goal-kicker had been more accurate. Rob Lawson converted only three of the eight tries.
Aberdeen had a four-try bonus point in the bag and led 22-0 after less than half an hour with tries by Peter Nelson, Calum Scott, Lawson, and Mark Oatey. Between the second and third of those scores Andrew Gillman gave GHA hope of a response with a sortie up the left touchline. It was only then that GHA took the zero off the scoreboard with a Jim Noonan penalty goal in 34 minutes from a scrummage infringement. But Grammar were soon back on the rampage. GHA lost a lineout, and the visiting pack surge on for Bennedick to score in the right corner.
That score was reflection of how the game was going. Aberdeen bullied the forward game, and GHA had little scope despite sterling efforts by Gillman, Jamie Pinder, and Dominic Kellock. Late in the first half, however, GHA had their first real chance of a try, when they hammering the Aberdeen goal-line. Nothing came it, and Aberdeen led 27-3 at the interval.
A run up the left touchline by Josh Low early in the second half gave GHA hope of a recovery, but their cause was hampered by Niall Cassie's injury departure. The captain was hit by the ball on the right eye. He was off for nearly 20 minutes, and by the time he returned the scoreline was 10-34 after a pushover try for Andrew Wilson and a Ross McClymont try that was just reward for GHA pressure, though it needed a quickly tapped penalty by Gillman to create the score for the full back. Noonan converted.
Grammar scored twice more in the last eight minutes, the first of those by Lawson (his second) from a No.8 pick-up. Back came GHA, and Cassie's tapped penalty sent McClymont close. The full back was denied, but Pinder went over for what appeared to be a try. He was certain, as were many in the crowd. But unbelievably the referee ruled that the ball had been held up.
GHA had the scrum put-in, but Noonan's pass was intercepted by Steven Aitken, who ran nearly 90 metres to score. Lawson converted. It was a 14-point turn-over;what should have been a 17-39 scoreline turned into 10-46.
Source: Bill McMurtrie