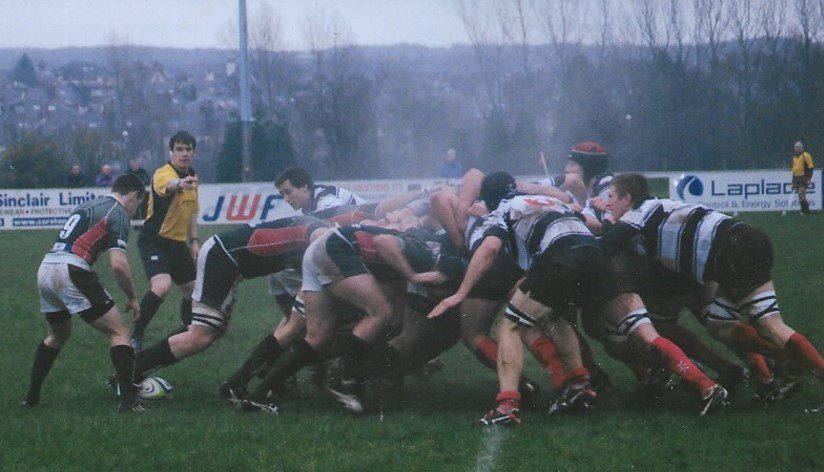 GHA RFC MATCH 183: GHA RFC 15 – 0 KELSO RFC 
2009/2010: Scottish Premiership Two
| | |
| --- | --- |
| GHA RFC  |  KELSO RFC |
R. McClymont
15
N. Trotter
R. O'Keefe
14
M.K. Hartley
(c) N. Cassie
13
G. Minto
M. Dunn
12
K. Utterson (c)
C. Binnie
11
G. Ponton
J. Noonan
10
E. Ford
A. Gillman
9
A. Tait
J. Low
1
C. Keen
I. Nelson
2
C. Riddell
A. Kelly
3
R. Glendinning
R. Jenkins
4
G. Stewart
I. Smith
5
J. Szkudro
D. Kellock
6
M. Murphy
J. Pinder
7
G. Riddell
M. Gurran
8
I. Moody
J. Coffey
16
D. Porteous
G. Warnock
17
G. Brown
D. Stoddart
18
S. Laing
A. Rushforth
19
P. Grahamslaw
McClymont, Pinder
Try
Noonan
Con
Noonan
Pen
DG
Referee
Mr A. Campbell (West RS)
GHA continued their winning roll with victory against Kelso at Braidholm. It was their seventh win in nine matches, and it moved them up from seventh to fifth in the Scottish Hydro Premier Two league table, a far cry from the troubled weeks that followed their away defeat against the same opposition on the opening day of the season in August.
All in all, it was pleasing day for GHA. Four Braidholm-based teams played, though three of the games were switched to Auldhouse, and all four won; the second XV against Musselburgh, the Braidholm team against Renfrew, and the under-18s versus Ayr in addition to the first XV.
At the end of the Premier Two match, though, GHA had to settle for the satisfaction of a win rather than a satisfactory win. But it could have been so different if they had kept up the early impetus which produced a try for Ross McClymont after only five minutes. McClymont sparked the scoring move with a precisely weighted high kick from which the Kelso full back took the ball together with Ruairi O'Keefe's follow-up tackle. The ball broke loose for McClymont to gather and sprint in for about 20 metres. Noonan converted, but GHA could not take more from their first-half dominance. Noonan missed a drop kick at goal, so did Ewen Ford. Then Noonan missed a penalty, so did Ford, and as the first half went into added time Greg Ponton failed with a drop kick.
GHA's game was based on Ian Smith lineout control, and the home scrummage became more forceful as the second half wore on. But possession was laboured, and two scores in the eight minutes after the interval were all that GHA could add to their tally. When a forward drive, initiated by Smith's lineout take, was pulled down Noonan kicked the penalty goal, and another driving maul from a lineout then produced even more with the forwards churning over from a Jamie Pinder try. Noonan missed the conversion, and that was the end of the scoring. GHA could not exploit even numerical advantage while Stuart Laing was in the sin-bin midway in the second half.
Ironically, Kelso played their best all-team rugby in the eight minutes to which added time. GHA, though, were secure, though they had a lucky escape when Kevin Utterson knocked on as he was skidding over the line.
Source: Bill McMurtrie
Match Program: